If you love Jalapeno Pepper Jelly like I do, stop spending a fortune buying those speciality jars and make it at home. It's so easy to make, takes about 30 minutes, AND you control the spiciness!
I'll never forget the first time I had Jalapeno Pepper Jelly on a cracker with cream cheese. I was in heaven! I had bought my mom a gift basket and there was a jar of it in there. I had no idea what to expect and, honestly, it didn't even sound that good. Boy, was I wrong.
Everytime I ran across a jar, I grabbed it and bought it. They are mostly sold in specialty stores and the price tag can be pretty expensive. They run around $7.00 for 8-10 ounce jar.
I wish I would have thought about making my own way back then, because I would have saved a good amount of money! It might cost around $2.00 to make a batch of my jalapeno jelly, but I'd bet it's less.
Jeff's co-worker gave us pounds and pounds of jalapeno peppers, so, I had to come up with various different uses for them and I decided to try my hand at making my own Jalapeno Pepper Jelly. It's amazing and amazingly easy!
How do I serve Jalapeno Pepper Jelly?
This might come as a shock, but jalapeno pepper jelly is good on almost anything! I'm serious!
My favorite way to serve it is on a cracker with cream cheese. It's a super easy appetizer and is delicious!
Here are some other ideas for using Jalapeno Pepper Jelly
Brush the Jelly on bacon and wrap the bacon around shrimp for grilling or air crisping
Glaze chicken or pork chops or even roasted veggies
Turn the jelly into a dip by combining cream cheese and the jelly
Mix it in with pulled pork or shredded chicken
Use it as a glaze for ham
Make Candied Bacon!
Use it to make salad dressings or bbq sauces
These are just a few ideas; there are tons more! What would you use your jelly for?
Do I have to make this in the Ninja Foodi Pressure Cooker and Air Crisper?
Absolutely not! I did it that way because I like the deep pot and it's super easy to clean, but you can use any pot on the stove and follow the same directions.
What is the difference between powdered pectin and liquid pectin?
I honestly didn't know the answer to this question, but I was testing out various recipes using both kinds of pectin and sometimes it worked and sometimes it didn't. It never occured to me that the the type of pectin made that much of a difference, but it does.
I've done a bit of research on this and from what I can tell (besides the obvious that one is powder and one is liquid) is when you add them to your jelly/jams/preserves.
Powdered pectin, like I use in this recipe, is added with the fruit pulp/juice and other ingredients, and then everything is brought to a boil BEFORE the sugar is added. Then the sugar is added and the mixture is brought back up to a boil until it reaches the desired temperature.
Liquid pectin is the reverse. You add the fruit pulp/juice and the other ingredients including the sugar, bring it to a boil and then add the liquid pectin. The mixture is then brought back up to a boil for 1 minute.
I prefer using powdered pectin, but either should work in this recipe as long as you change the order in which you add ingredients.
Can I make Jalapeno Jelly without sugar, or use a sugar substitute?
I have not tried to make Jalapeno Jelly without sugar and I would be cautious if you want to try that because the sweetness of the sugar really balances out the spiciness of the jalapeno peppers. I'm just not so sure how good it will be. BUT, if you love spicy foods you might be able to use the same technique as you do when using a sugar substitute.
Although I have never made any jams, jellies, or preserves using a sugar substitute, I get the question a lot, so, I did some research.
You can use a sugar substitute IF you use a pectin that is specifically for low sugar. I tried to find some so I could test the recipe that way and give exact instructions, but it was nowhere to be found near me.
I was able to locate it on Amazon and have ordered some to give it a go. If you can't find it at your local store, you can buy it HERE: (affiliate link)SureJell Low Sugar Pectin. This was the best price I could fine on Amazon, but it is a box of 6. If you aren't planning on making low sugar jams or jellies much, then you might want to really shop around. Walmart should carry it, although mine either doesn't or it was out of stock.
I would use a sugar substitute that is a 1:1 replacement for sugar. If you give this a try, please let me know in the comments how everything goes!
Can I make variations of this Jalapeno Pepper Jelly?
YES! YES! YES! I have been having so much fun playing around with this basic recipe and adding various things.
I have made a Jalapeno Wine Jelly by substituting half of the vinegar with red wine. I think I increased the pectin a tad, but I'm still testing that recipe and will get it out as soon as possible.
I have also made a Jalapeno Mint Jelly that was so amazing! I made it and then ran out of mint, so, as soon as my mint grows, I'll be finishing that recipe and getting it out.
Can I make other types of jelly the same way?
Yes and no. The basic technique is the same, but the ingredients and amount of pectin will vary depending on what type of jelly, jam, preserves, or marmalade you want to make.
Some fruits (jalapeno peppers are in the fruit family) have more pectin than others, and that will determine whether you need to add more pectin or need any pectin at all.
Ripeness of the fruit can make a difference, too. For instance, bananas have a good amount of pectin when they are greenish, but once they ripen and, especially if they are overripe (which is when the flavor is the best for breads and jam), the pectin is reduced. Stay tuned because I have a banana jam recipe coming soon that is soooo good!
So, the answer is... Yes, you can make all sorts of jellies/jams/preserves using the same technique, but you may need to alter ingredients.
I've been doing a lot of jelly, jam, preserves, and even marmalades lately and I love it! Even if you haven't made any before, give it a try! You'll be surprised at at how easy it really is.
Here are some of my other recipes that I've made and they are delicous!
Orange Marmalade uses a pressure cooker to cut down time and doesn't require any pectin.
Strawberry Preserves from Frozen Strawberries is a recipe that I wasn't sure would even work. It works great!
Strawberry Basil Preserves is a post that is actually about canning in the Ninja Foodi, but I have the recipe for Strawberry Basil Preserves in it.
Can I cut this recipe in half or double it?
You can make half a batch very easily by cutting the ingredients in half. I have done this many times and it works perfectly.
I don't recommend doubling it, though. With jams/jellies/preserves it is a better practice to make two batches rather than double a recipe.
What Do I Do if My Jelly Doesn't Set Up?
Making Jams and Jellies is pretty simple, yet sometimes we run into problems with it setting up.
I never had that issue with this recipe, but I have had it with other ones and it's frustrating! There is nothing worse than spending the time to make homemade jelly, chill it, just to open the jar and have sauce instead of jelly.
Each Jelly is a little different depending on the ingredients used and there is a fine line between cooking too little and cooking too much. I have canned jellies in the past and over processed them and that broke down the pectin too much and resulted in liquid jelly.
Here is a good article I found that goes over the common issues with jams/jellies/preserves not setting up and tips for fixing them.
Why your Jam or Jelly Isn't Setting and How to Fix It
I sure hope you don't run into this issue, but if you do don't give up! Follow the tips in the article above and I bet you can salvage your jelly!
How to make Jalapeno Pepper Jelly
*** This is NOT a canning recipe and the finished jelly must be stored in the fridge until you are ready to use it. ****
For instructions on how to hot water bath can jelly, please visit: Hot Water Bath Canning
Like I said earlier, I used the Ninja Foodi Pressure Cooker & Air Crisper to make this jelly, because I love the appliance and its deep pot. I like the fact that I can adjust the heat to 6 different settings and it's easy to clean!
For more information on the Ninja Foodi, please read my article, How to Use the Ninja Foodi.
If you don't have the Ninja Foodi or an Instant Pot, you can use a large pot on the stove.
I used the (affiliate link)Ninja Foodi Cold & Hot Blender to blend up the vinegar and jalapenos, but you can use any high speed blender or food processor. If you see any chunks of the jalapeno after you blend the two, you may want to strain the mixture before adding the pectin.
The first thing you want to do is check the heat level of your jalapenos. This varies quite a bit and by tasting a tiny bit of a few of them, you will get a better idea of how many of them you want to remove the seeds from.
Most of the heat is in the pith (white part, also called veins) and the seeds. I sometimes cut off a tiny bit of the end of a few of the peppers and get a feel for how spicy the pepper is. If you don't want to do that, I've found that a 50/50 split gives a nice heat without being overpowering.
So, cut off the stems from all 10 peppers and remove the seeds and pith from 5 of them for a balanced heat. If you are sensitive to heat, deseed more and if you love spicy, deseed less.
Add the peppers and the vinegar to the Cold & Hot blender and select the extract function. This works great for really pureéing the mixture.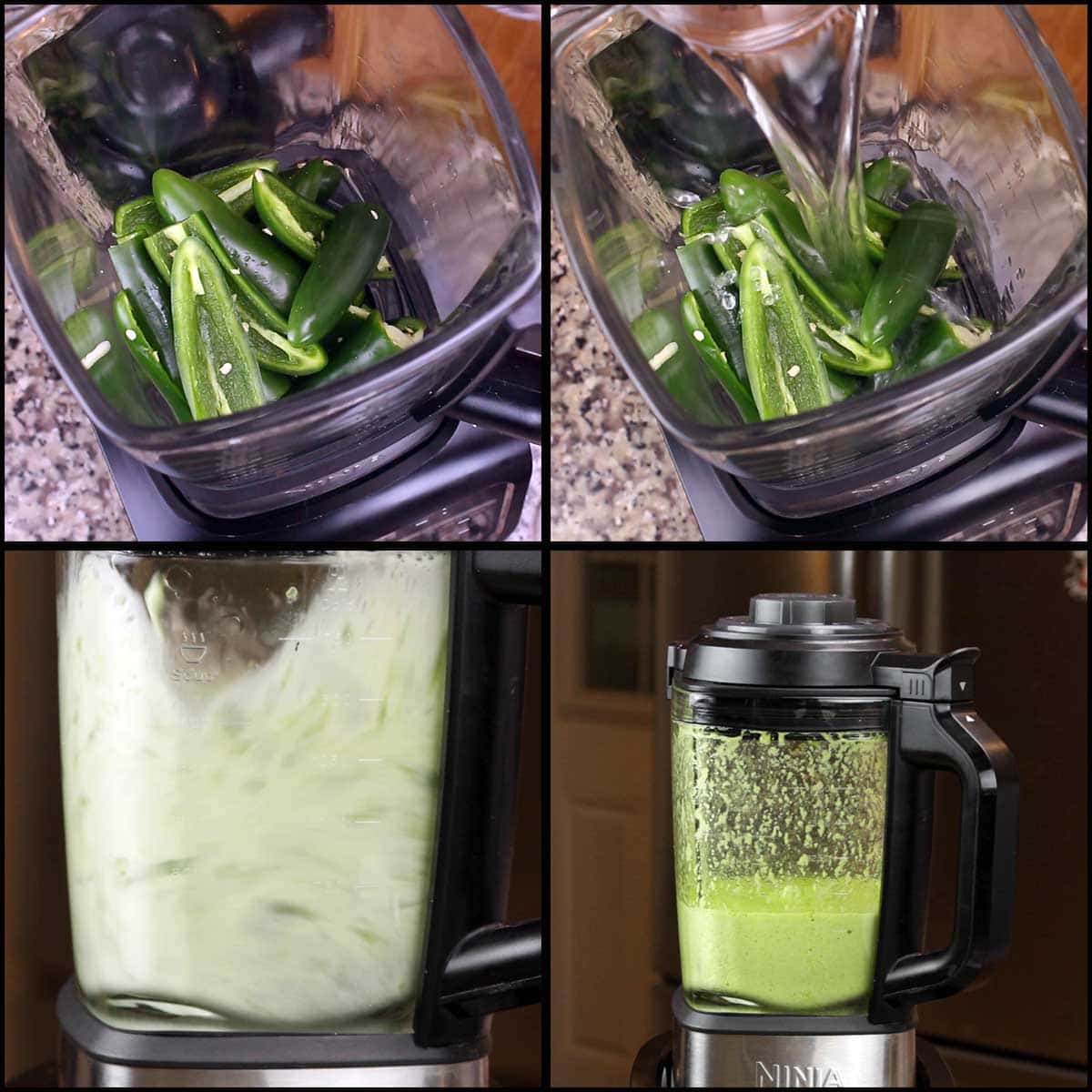 If you are using a different blender or food processor, use the highest blend setting. If you still see chunks of peppers, you can strain the mixture to remove them for a smooth jelly.
Make sure to stand back from the blender/food processor and DO NOT breath in the pepper mixture, it is very potent and can cause a burning sensation to your eyes and lungs and can even make you sick.
Pour the mixture into the inner pot of the Ninja Foodi or into a large saucepan or stockpot on the stove.
Select the sear/sauté on high or turn the stove on high heat, and then add in the pectin. Stir to combine and bring to a boil that cannot be stirred down.
This means that the mixture continues to boil even while you are stirring.
You will see the vibrant green mixture also change color and look more like the color of pea soup. Even if you don't want to add food coloring a little later, don't be too worried about the color. After the sugar is added and it boils, the color lightens up a bit. I've made batches with and without food coloring and they both look fine.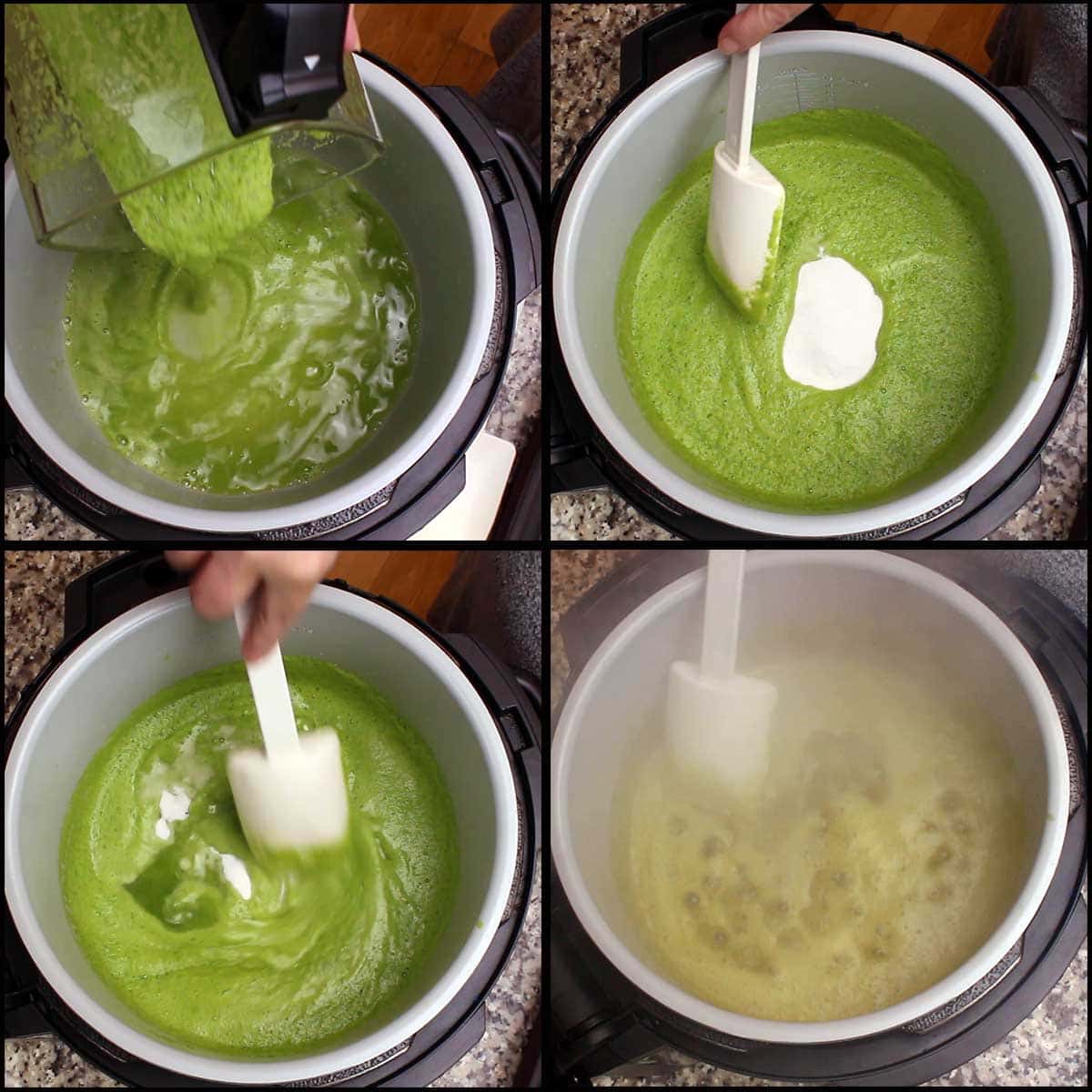 Add in the sugar and stir. Add 3-6 drops of food coloring if desired. Bring the mixture back up to a boil that cannot be stirred down and hold it there for a few minutes. If you have a thermometer, it should read between 220-223℉/104-106℃
Turn the heat off and allow the jelly to cool for a few minutes. Then ladle into jars and place in the fridge to set up.
This makes 4 (8 ounce) jars or 8 (4 ounce) jars. The smaller jars usually set up in 4-8 hours and the larger jars are completely set after about 24 hours. Store in the refrigerator until you are ready to use.
Jalapeno Pepper Jelly
A little spicy and a little sweet makes this jelly absolutely perfect!
Print Recipe
Pin Recipe
Ingredients
9

ounces

jalapeno peppers

about 10 average peppers

1

cup

white vinegar

2½

tablespoon

powdered pectin

4

cups

sugar

3-6

drops

green food coloring

optional
Instructions
Cut the stems off of the jalapeno peppers and cut them in half. Remove the pith (white part) and seeds from 5 of the peppers and leave the seeds in the other 5 the peppers. Add the vinegar and the peppers to a high speed blender and blend on high speed until smooth. Strain to remove the pulp. You will end up with about 1½ cups of liquid.

Pour the mixture into the inner pot of the Ninja Foodi and turn it on high sear/sauté or a large pot on the stove and turn on high. Add in powdered pectin and stir. Bring to a boil that will not stir down. This will only take a few minutes.

Add the sugar and stir. Add food coloring if desired. Bring back to a boil that cannot be stirred down and let it cook for a few minutes. If you are using a thermometer, the temperature should be around 220-223℉/104-106℃

Turn off the heat and allow to cool for a few minutes. Ladle into jars and let it set up in the fridge for 4 hours or until it's set. If you want to try some sooner, put some of the jelly into a shallow container and put it in the freezer until it is set. Enjoy!
Notes
*** This is NOT a canning recipe. Store the jars in the fridge until use. ****
This recipe yields about 26 ounces of jelly.
Tips for working with jalapenos
wear gloves so you don't get the capsium on your hands
do not breathe in the vinegar and jalapeno mixture, and keep a little distance until the sugar is added.
Use the seeds and white part (pith or veins) to add more heat
Nutrition
Serving:
0.5
tablespoon
Calories:
53
kcal
Carbohydrates:
14
g
Protein:
1
g
Fat:
1
g
Saturated Fat:
1
g
Sodium:
1
mg
Potassium:
6
mg
Fiber:
1
g
Sugar:
13
g
Vitamin A:
24
IU
Vitamin C:
3
mg
Calcium:
1
mg
Iron:
1
mg
ABOUT THE RECIPE AUTHOR, LOUISE LONG
Louise is a full-time recipe creator and food blogger @ The Salted Pepper. She has over 30 years of experience with cooking and recipe development. She owned a restaurant for several years and was a full-time RN until retiring to blog full-time.
She published her first cookbook in the Fall of 2018 and is very interested in writing several more.
Louise is also the creator of an online Ninja Foodi Pressure Cooking Course with over 100 instructional step-by-step videos. People absolutely rave about the course and all the value they have received from it.
Louise has several very active Facebook groups that help people with the basics of cooking and getting the most out of the Ninja Foodi.
Louise is also a YouTube creator and you can find most of her recipes in video format on The Salted Pepper YouTube channel.
She is very responsive to messages and eager to help in any way she can. Get more Information about Louise & contact information
I WOULD LOVE TO SEE WHAT YOU ARE COOKING UP IN YOUR KITCHEN! TAG ME @THESALTEDPEPPER ON YOUR FAVORITE SOCIAL MEDIA PLATFORM WHEN YOU MAKE A DISH!
BE SURE TO FOLLOW THE SALTED PEPPER RIGHT HERE ⇓⇓⇓⇓⇓