This Quick & Easy Pot Roast recipe is life changing! Seriously... it is the BEST pot roast I've ever made and a HUGE bonus is that it's quick & easy, too!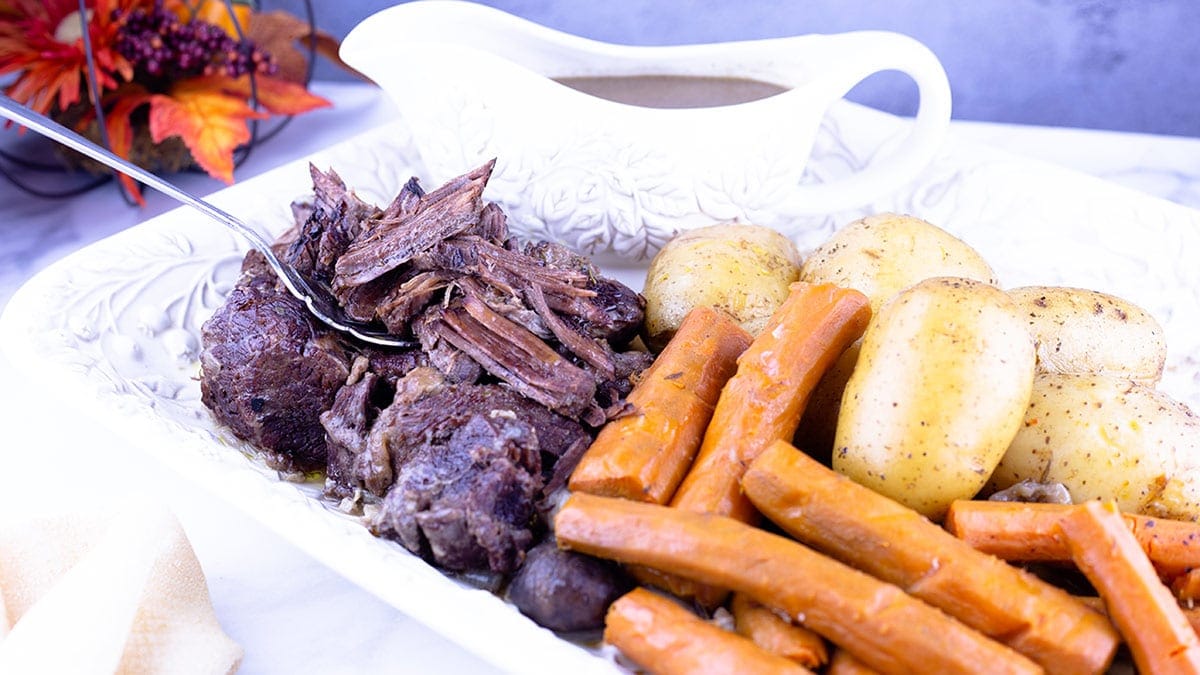 True but funny story about this recipe for Quick & Easy Pot Roast. Many of you know that I have a couple of Facebook groups for the Ninja Foodi, but a little secret here... I also have one called Simply Cooking with Louise where I cook LIVE every other Tuesday and make dinner with surprise ingredients my husband brings me.
Well... one Tasty Tuesday, he brought me a chuck roast, carrots, onions, potatoes. It was pretty obvious that he had pot roast in mind. I looked at him like he was nuts... the LIVE show is an hour long -- or at least that's what we aim for!
This post may contain affiliate links. If you make a purchase after clicking a link, I may earn a small commission. As an Amazon Affiliate, I earn from qualifying purchases.
How in the world can I cook a pot roast in 60 minutes? I laughed and got to cooking! Amazingly, I developed this quick & easy pot roast LIVE on Facebook and it was delicious! Now, a little disclaimer here... it took me longer than 60 minutes, but that's because I talk so much.
The pressure cook time on this is ONLY 30 minutes! WooHoo! Here's how I did it!
How Long Do You Cook a Pot Roast in the Ninja Foodi?
I always feel like a broken record when I say this, but it all depends! There are many variables to consider when choosing times for pressure cooking a pot roast. The size, cut of meat, and how you want it cooked will determine how long you should pressure cook it.
Some other things to consider are:
Are you adding in your veggies at the beginning or waiting until it's almost done to add them?
Will the pot roast be in the liquid or above it on a rack?
Does the cut of meat have a bone?
Do you want the roast to be shreddable and fall apart easily or do you want slices?
How much time do you have?
Usually, a 3-pound chuck roast will take 90-120 minutes to be tender and fall apart. That's a long time! I don't know about you, but I don't usually plan that far in advance and I never have 4 hours to make dinner.
No worries, though. You can get a perfectly tender pot roast with a pressure cook time of 30 minutes! Yep! That's right, this quick & easy pot roast only pressure cooks for 30 minutes and it's perfect!
The first IMPORTANT step is picking out the right cut of meat for your pot roast!
What Cut of Meat Should I Use for a Quick & Easy Pot Roast?
There are so many different cuts of beef -- it can really get confusing, even for me. In no way am I an expert on this subject, but I've had enough failed pot roast attempts in my life that I have learned a thing or two.
Let's assume that you want a flavorful, tender, pull apart, and melt in your mouth pot roast. You will need to get a chuck roast that is well marbled, but not overly fatty. Pick one that has fat going through it, but also has a lot of meat on it. I look for 80% meat and 20% fat.
Now, they aren't labeled like ground beef, so the package won't say 80/20 like ground beef does. It's all up to you to look at the meat and estimate. I look for a chuck roast that has uniform marbling throughout.
Some other common names for Chuck Roast that you might see in the grocery store are:
Chuck Eye Roast
Chuck Pot Roast
Chuck Roll Roast
Now, don't be confused by the Chuck Eye Roast, it is not the same as the eye of round roast that you commonly find in the store. The chuck eye roast comes from the shoulder and has more connective tissue and fat. The Eye of Round roast comes from the rear of the animal and is much leaner.
Top Round and Bottom Round roasts are also commonly found in grocery stores. These cuts also come from the rear of the animal and are lean and tough. If you try to make a pull apart tender pot roast with either of these cuts, I think you will be disappointed. Because they have less fat, less collagen, and less connective tissue, they don't break down like a chuck roast does.
The top or bottom round roasts are often used for roast beef. You can pressure cook them, but it is important to know that these cuts should be sliced thin against the grain for the best results. I also recommend serving them rare to medium rare. I've been on the hunt for a top round and, when I find one, I will be sure to do a recipe!
Okay, hopefully I've convinced you to get a chuck roast for your next pot roast dinner and I really hope you'll give this Quick & Easy Pot Roast recipe a try!
I find the various cuts of beef to be interesting (I know I'm kind of strange!) and I found this website that goes over the various cuts, so take a peek at it before you go shopping for beef!
One last thing before we move on to how to make the quick & easy pot roast. Meat varies a lot! You can have one chuck roast that is melt-in-your-mouth tender and cook a second one the exact same way and it's not as tender. You didn't do anything wrong! It happens. Some are just better than others. If you want the best quality, I really recommend finding a reputable butcher shop and getting your meat from them. The difference is unbelievable!
Tips for Making a Quick & Easy Pot Roast
Choose a good quality chuck roast
This will have the most direct effect on the outcome of your pot roast, so get the best quality you can.
Pick carrots that are about 1" in diameter
Skinny carrots will cook much quicker and might fall apart during the 30-minute pressure cook time.
Leave your vegetables whole
Not only does this make prep easier, but it will prevent the vegetables from overcooking in the 30-minute cook time.
Use Yukon Gold potatoes
The reason I suggest using Yukon Gold or any type of full size gold potato is because they hold their shape better under the 30-minute pressure cooking time. Russets tend to fall apart.
How to make a Quick & Easy Pot Roast
The first thing you want to do is take your meat out of the fridge and let it come to room temp for about 30 minutes. This will give you a better sear on the meat because cold meat cools the pan down quickly and you don't get the high heat in direct contact with your meat.
Next, combine the flour and the seasonings in a medium size bowl. Of course, you can change the seasonings however you like, but this blend was truly delicious!
Cut up the meat into 4" chunks. This is very important if you want your roast to cook in 30 minutes along with the vegetables. By controlling the size of the meat, we greatly reduce the cooking time. If you want to keep your roast whole, you will need to increase the cooking time to 90-120 minutes. I also recommend adding in the vegetables the last 20 minutes or so.
Add ¼ cup of olive oil (bacon grease works great too) to the inner pot and turn on the sear/sauté to high. Allow the oil to get very hot, but not smoking.
Dredge your beef chunks in the flour mixture, coating all sides. When the oil is hot enough, place each chunk in the inner pot and let them sear. You may have to do this in stages if you have more chunks than the inner pot can hold. You will know when your meat is seared correctly because it will release from the pan easily. If it is sticking, it isn't ready yet. Turn each piece of meat over and continue the process until all sides of each chunk are seared.
Remove the meat and place on a plate, or if you can fit all the chunks in at once, you can skip this step and just leave the meat in the bottom when deglazing.
Deglaze the pan with 1 cup of dry red wine or, if you don't want to use wine, use beef stock. This step is very important and should be done while the pot is hot. When the cold liquid hits the hot pan, it releases all the brown bits (called fond) on the bottom. The fond has great flavor and we want it in our liquid.
It is also important because, if we don't deglaze the pan, those stuck-on bits can trigger the water notice. I like to use my (affiliate link)scoop and spread from Pampered chef to scrape the bottom, but you can use any utensil that is safe for non-stick surfaces.
When deglazing with wine, allow the liquid to simmer for a minute or two so the alcohol has a chance to burn off. We want the flavor of the wine, but not the strong alcohol taste in our final dish. Return the meat to the bottom of the inner pot if you removed it.
Add in the beef stock. I call for 2 cups of beef stock, but I think you can get away with only using 1. I haven't tested this yet, but there is so much liquid that is put off by the beef that we end up with a full pot of liquid at the end.
Now, let's get those veggies ready. I love how easy the prep for this pot roast is and I know you will too!
If you are using mushrooms, gently wipe them with a damp paper towel. You don't want to wash them under water because they will absorb the water and then they can't absorb the delicious liquid from our pot roast!
Peel and smash one full bulb of garlic. I know, it's a pain... but it's worth it! Cut the onions in large chunks. I usually cut each onion into quarters. Throw them in the pot.
Peel the carrots (if you want to) and leave them whole. If the carrots are too long to fit in the pot, cut them just so they will fit. We want our vegetables to be as large as possible to avoid overcooking.
Wash the potatoes and leave them whole. You can peel them if you want, but I don't.
Add the fresh Thyme and Rosemary sprigs to the pot and top with carrots and potatoes. If you are using the 6.5 qt Ninja Foodi, your pot will be very full. No worries. Just make sure anything that is above the top of the inner pot is pushed towards the front and not impeding the underside of the valve and red pin.
Put the pressure lid on and turn the valve to seal. Pressure cook on high for 30 minutes. Isn't that the best part!
Allow to natural release for 5-10 minutes. This is not because the meat will dry out, it won't. It's submerged in liquid. It's so you don't have the liquid spewing out of the valve! Release the remaining pressure. This will take some time because the pot is full of liquid!
Remove the lid and remove the veggies. Don't dig down to get the meat first. You want the temperature of the liquid to cool slightly before removing the meat so the moisture doesn't get sucked out of the meat with a sudden change in temp.
I find using this large (affiliate link)Scoop 'N Drain works great for removing the meat and veggies from a pot with a lot of liquid. The size is great and all the juices are drained off.
You can make gravy out of the juices. I'm not the best gravy maker, but I did manage to make some delicious gravy in the YouTube video for this recipe.
Serve and Enjoy!
Quick & Easy Pot Roast in the Ninja Foodi
Perfectly seasoned Pot Roast with carrots and potatoes that cooks in 30 minutes!
Print Recipe
Pin Recipe
Ingredients
Seasoning Blend
2

teaspoon

sea salt

1

teaspoon

pepper

1

teaspoon

onion powder

1

teaspoon

garlic powder

1

teaspoon

basil

1

bay leaf

½

teaspoon

red pepper flakes

1

teaspoon

rosemary

crushed

½

cup

flour
Pot roast Ingredients
¼

cup

olive oil

3

lb

chuck roast

you can use any size chuck roast, just cut it into 4" chunks

1

cup

red wine

any dry red wine you enjoy drinking.

2

cups

beef broth

2

large

onions

vidalia or sweet

1

bulb

garlic

2

sprigs

Rosemary

fresh

4

sprigs

Thyme

fresh

8

ounces

mushrooms

whole baby portobella

2

pounds

carrots

2

pounds

potatoes
Instructions
Take the chuck roast out of the refrigerator about 30 minutes before cooking. Combine the flour & the seasoning blend into a bowl.

Heat the olive oil in the inner pot on high sear/saute until it is very hot, but not smoking. While the oil is heating up, cut the chuck roast into 4" chunks.

Coat the pot roast with the seasoned flour and brown all sides in the hot oil. Deglaze the inner pot with the red wine. Make sure nothing is stuck to the bottom of the pot.

Add in the 2 cups of beef broth and keep the sear/saute on high.

Add in the whole mushrooms and peeled garlic cloves. Cut the onions into large chunks and add to the inner pot.

Peel the carrots, but keep them whole. Wash the potatoes (you don't have to peel them) and keep them whole. Add the Rosemary & Thyme to the pot along with the carrots and potatoes.

Put the pressure lid on and turn the valve to seal. Set Pressure to high for 30 minutes. Allow to natural release for 5 minutes and then manually release the remaining pressure.

Leave the meat in the bottom for at least 5 more minutes while removing the vegetables to avoid having it loose some moisture. See post for details

Make gravy with the juices if desired. Serve & Enjoy!
Nutrition
Calories:
671
kcal
Carbohydrates:
49
g
Protein:
53
g
Fat:
27
g
Saturated Fat:
12
g
Cholesterol:
156
mg
Sodium:
1534
mg
Potassium:
2181
mg
Fiber:
10
g
Sugar:
10
g
Vitamin A:
25370
IU
Vitamin C:
32
mg
Calcium:
161
mg
Iron:
11
mg
ABOUT THE RECIPE AUTHOR, LOUISE LONG
Louise is a full-time recipe creator and food blogger @ The Salted Pepper. She has over 30 years of experience with cooking and recipe development. She owned a restaurant for several years and was a full-time RN until retiring to blog full-time.
Louise has several very active Facebook groups that help people with the basics of cooking and getting the most out of the Ninja Foodi.
Ninja Foodi Fresh & Healthy Meals
Seeing the need for easy, delicious, and high quality recipes, she is focusing all of her efforts creating recipes specifically for the Ninja Foodi. Her recipes are easy for the home cook to follow and provide step-by-step instructions.
Louise is also a YouTube creator and you can find most of her recipes in video format on The Salted Pepper YouTube channel.
She is very responsive to messages and eager to help in any way she can.
I WOULD LOVE TO SEE WHAT YOU ARE COOKING UP IN YOUR NINJA FOODI! TAG ME @THESALTEDPEPPER ON YOUR FAVORITE SOCIAL MEDIA PLATFORM WHEN YOU MAKE A DISH!
BE SURE TO FOLLOW THE SALTED PEPPER RIGHT HERE ⇓⇓⇓⇓⇓