Now you can grill anytime you want with the Ninja Foodi Indoor Grill! This Grilled London Broil with an old family "secret" marinade is the perfect example of how quick and easy the indoor grill is to use!
Steak is one of my husband's favorites, in fact, anything beef is at the top of his list. His favorite cut of steak is a sirloin, while mine is a filet. I like melt-in-your-mouth tender steak, while he prefers a steak with a bit of chew.
This post may contain affiliate links. If you make a purchase after clicking a link, I may earn a small commission. As an Amazon Associate, I earn from qualifying purchases.
This Grilled London Broil was so incredible, we are both huge fans of it! It is tender, with just a bit of chew and the marinade is over-the-top good!
When I met Jeff, 12 years ago, he wasn't much of a cook, but the one thing he had down was grilling steaks. His secret weapon was his granddad's marinade. There really wasn't a recipe per se, but Jeff had a basic idea of the ingredients and it was always wonderful.
So, when I set out to test a Grilled London Broil on the Ninja Foodi Indoor Grill, I asked if I could use a version of Grandad's marinade. He was all for it, so I got to work!
Jeff and I both agree this is the BEST version of the marinade yet! It's so balanced and not overpowering, but gives such an incredible flavor to the grilled steak! I hope you love it as much as we do!
What Cut of Beef is London Broil?
London Broil isn't actually a cut of beef, it is a preparation and cooking method.
A London Broil refers to a cut of beef that has been marinated and grilled or cooked over a high heat.
Years ago, a London Broil was a flank steak because the flank was considered a cheaper and less desirable cut of meat. That has changed over the years and, while you may see a flank steak labeled as a London Broil, usually cheaper cuts are used.
Chefs all over the world started to use flank steak and it gained in popularity to the point that the prices have really gone up! London Broil is a preparation and cooking technique that uses a cheaper cut of beef and relies on the cooking technique and slicing to deliver an affordable, delicious meal.
Today, most cuts of beef that are labeled London Broil in the grocery store are a top round. Top rounds are mostly used for Roast Beef. It is a lean cut of meat and, while I do see people using them for pot roast, they really aren't the best cut for that preparation.
The London Broil that I usually see in the store are about 1-2" thick, but they can be thicker. If you have a London Broil that is more than 3" thick, I would really recommend using my recipe for Roast Beef! It's delicious and really easy to make. Here is the recipe⬇︎⬇︎⬇︎
If you want to make a delicious Pot Roast, here is a quick and easy Recipe and I talk about the best cuts of meat for Pot Roast in the article.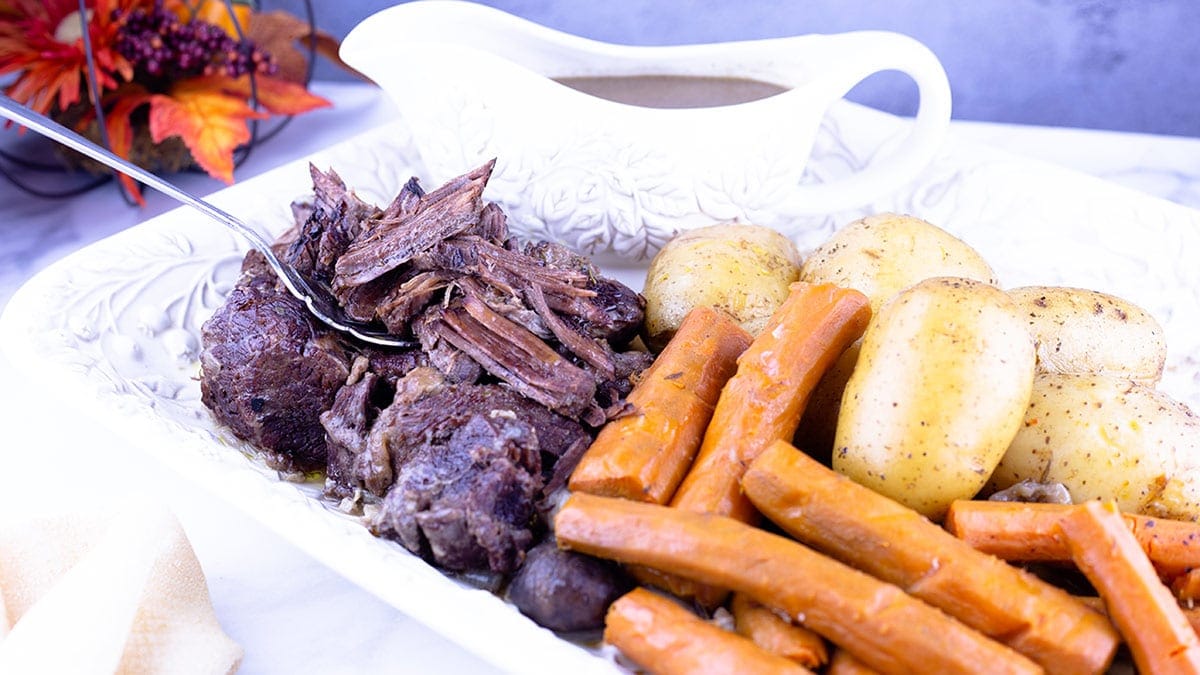 Do I have to use a Marinade?
No, not if you don't want to. I don't usually marinate other cuts of steak, but there is something really delicious about marinating a London Broil.
If you are considering not using the marinade because you don't like or have some of the ingredients in my recipe, don't worry about that. The beauty of a marinade is you can make it however you want.
The important components in a marinade are oil, an acid, and seasonings. The oil can be anything from an olive oil to a sesame oil and all the oils in between. The acid can be any vinegar, lemon or citrus juice, or even wine is used. The seasonings can be simple salt and pepper or more complex spices.
It is completely up to you what you want in your marinade, so, before you decide to skip it, maybe use mine as a guideline for amounts and create one that you will love!
However, you can skip it and opt for a dry rub instead. The dry rub can be simply salt and pepper or even just salt. Or, you can get creative and add a bunch of spices and rub it all over the meat.
No matter which direction you go, I'd still put your seasoned beef in the fridge for a few hours. You'll be amazed at how much better even the dry rub is after it sits on the steak for a few hours.
What is the Best Way to Slice Grilled London Broil?
As with any cuts of beef, especially the tougher cuts, slicing the meat across the grain is critical if you want a tender chew.
In order to make sure you are cutting across the grain, you need to determine which way the grain is going. It isn't always that evident and it can be very hard to tell once the meat is cooked.
The best way to tell if you can't see the grain clearly, is to slice a thin piece off of an end and look at it. Here are some pictures. The left side shows the meat being sliced WITH the grain and the right side shows the meat being sliced ACROSS or AGAINST the grain.
In the picture above, you can see on the right side that there is a cross hatched pattern to the meat. This is what you want to see. You are cutting across the tough fibers of the meat and this will give you a much more tender chew.
The left side shows the beef incorrectly sliced and you can see the muscle fibers going left to right. No cross hatch marks. If this is how your sliced meat is looking, start slicing from the other side.
Do a side-by-side comparison and you will be amazed at the difference!
What Temperature Should My London Broil Be?
It is best to cook a London Broil to medium rare or medium and not go past that. I know some people do not want to see any pink in their steak and that's fine, but just know that your meat will be tougher and harder to chew if you cook it medium-well to well done.
When cooking meat, using a thermometer is the most accurate way to get perfect steak every time!
It can be a little challenging, though, with thinner cuts to get an accurate temperature, especially with a probe type of a thermometer. You must insert them exactly right so that they are measuring the center temp and not the outer temp.
If your Ninja Foodi Indoor Grill didn't come with a probe type of thermometer and you want to get one, I have found the 2-in-1 thermometer from Pampered Chef to be very accurate when compared to my top of the line $100 Thermopen MK4.
The Pampered Chef 2-1 Thermometer can be used as a probe type of thermometer or an instant read thermometer. I have found it to be very accurate an the only thing I don't like about it is the on/off button. I find it cumbersome to use. The price is right, though! If you are in the market for a new thermometer and want a dual purpose one, it's a good one and you can find it here ➡︎➡︎➡︎ Pampered Chef 2-in-1 Thermometer
Don't let the picture fool you, like it did me. They don't show the probe wire, but it does come with it.
Here is a guide to the temperature you want to cook your London Broil to depending on how you like your steak cooked.
I like my London Broil:
Rare: Cool red center. The internal temperature should register about 125 F/ 52° C.
Medium-Rare: Warm red center. The internal temperature should register 135° F/ 57° C.
Medium: Warm pink center. The internal temperature should register 145° F/ 63° C.
Medium Well: Slightly pink center. The internal temperature should register 150° F/ 66° C.
Well Done: Little or no pink. The internal temperature should register 160°F/ 71° C.
*** Always allow for carry over cooking as the steak rests. I pull my steak off the grill when it reaches 5-10° LESS than where I want it to be.
How Long do I Have to Marinate a Steak for?
This is one of those things where longer isn't necessarily better. The marinade is only going to penetrate about 1 millimeter deep no matter how long you marinate it for.
Depending on your marinade and even the type of meat, longer marinades can actually cause a weird texture to the meat. This is especially true with pork and citrus.
I marinated cubes of pork one time in a citrusy marinade and let it sit for over 24 hours and the surface of the meat was broken down by the acid and became very mushy. It wasn't good at all, so don't make that mistake!
For this recipe, the minimum time I recommend for marinating the London Broil is 2 hours, but you can go up to 24 hours without any issues.
How to make London Broil in the Ninja Foodi PC & AC
Follow all the directions for tenderizing the meat and marinating the meat.
Preheat the Ninja Foodi on broil for a full 10 minutes. You can use the rack in either position, try to use it in the high position if it isn't too thick.
If you have the grill grate for the Ninja Foodi PC & AC, use that! It will work perfectly! I would set the grill grate on the diffuser legs with the point of the legs resting on the bottom of the inner pot.
Use the broil function and broil for 4-6 minutes, flip and broil another 4-6 minutes or until your London Broil is done to your liking.
*for diamond shaped grill marks using the grill grate, broil for 3 minutes and do a quarter turn, then broil another 2-3 minutes and flip. If the meat doesn't release easily from the grill grate, let it cook longer. It will release easily when it is seared well on that side.
How to make Grilled London Broil on the Ninja Foodi Indoor Grill
I like to tenderize my london broil before marinating and the best tool I've found is the Pampered Chef Meat Tenderizer. It's a beast and gets the job done easily and quickly.
You can use any meat tenderizer, of course, or you can even score the surface of the meat on one side about ⅛-¼" in depth.
Once tenderized, mix up your marinade. You can do this in a separate bowl or right in the bag you are going to use to marinate the meat in. I like to use a dispoable plastic bag for easy clean up and when you squeeze the air out, the marinade is all over the meat.
You can also use a shallow dish with a cover, but you might want to flip your london broil a few times to ensure the marinade penetrates both sides. Or you could whip up a double batch of the marinade and that should do the trick.
Marinate at least 2 hours and up to 24 hours. Remove the steak from the fridge about 30 minutes before you want to cook it. I leave it in the bag.
Preheat the Grill on Max Grill and while it's preheating, remove the steak from the bag and blot off the extra marinade. This will prevent the marinade from sticking to the grate and also allows for a better sear.
When the Ninja Foodi Indoor Grill is preheated, it will beep and say, "ADD FOOD." Lay the London Broil on the grill grate and press down on the London Broil to get better grill marks (sear) and close the lid. I think the default time is 10 minutes, but you will only grill for 4 minutes. Do not open the lid during this time or you will let the heat out and prolong cooking.
After 4 minutes, open the lid and flip the london broil. I like to flip it onto the area of the grill that was open because it will be hotter than the area where the beef just was.
Don't force the meat to release from the grate. If the meat does not release easily from the grill grate, close the lid and grill another 1-2 minutes, then flip. If it's hard to get off it means it isn't seared enough.
Once you flip the London Broil, you will want to check on it every couple minutes. Usually 8 minutes total has worked perfectly for me, but when I did the video, it was done in a total of 6 minutes. That means I cooked for 4 minutes on one side and 2 on the other side. Super fast!
Your total cook time will depend on how you like your Grilled London Broil and how thick it is. Using a thermometer is the best way to cook your steaks perfectly.
When done, remove the steak from the grill and place on a cutting board to rest. You want to let it rest for about 5-10 minutes. Some people tent with foil, but I don't usually bother with that.
Slice the Grilled London Broil thinly across the grain and serve!
Enjoy!
Marinated London Broil
Perfectly seasoned and grilled London Broil
Print Recipe
Pin Recipe
Ingredients
1½

lbs

London Broil

¼

cup

red wine vinegar

1

tablespoon

olive oil

1½

tablespoon

spicy mustard

2

cloves

garlic

minced

1

tablespoon

Worcestershire sauce

1-2

teaspoon

rosemary

fresh and chopped or ½ teaspoon dried rosemary

1

teaspoon

sea salt

1

teaspoon

onion powder

1

teaspoon

dried thyme leaves

or 1 tablespoon of fresh thyme

½

teaspoon

black pepper
Instructions
Trim up the steak if there is any visible fat. Tenderize each side with a meat tenderizer.

Mince the garlic cloves and finely chop the rosemary if using fresh. Combine all the marinade ingredients into a large plastic, sealable bag. Or use a shallow container with a lid. Add the steak and seal the bag. Mix the marinade all around so the ingredients combine with each other. Then squeeze the air out of the bag and refrigerate for 2-4 hours.

Remove the steak from the fridge, leave it in the bag and let it sit at room temp for 30 minutes.

Remove the steak from the bag and blot off the marinade. Preheat the indoor grill on max grill. When it says "ADD FOOD" lay the steak on the grill surface and press the steak down onto the grill surface.

Grill on max grill for 4 minutes and then flip. Grill on max grill another 2-4 minutes for medium rare. Remove from grill and let the steak rest for 5-10 minutes.

Slice thinly across the grain. Serve & Enjoy!
Nutrition
Serving:
4
ounces
Calories:
265
kcal
Carbohydrates:
2
g
Protein:
40
g
Fat:
9
g
Saturated Fat:
2
g
Cholesterol:
104
mg
Sodium:
798
mg
Potassium:
668
mg
Fiber:
1
g
Sugar:
1
g
Vitamin C:
1
mg
Calcium:
48
mg
Iron:
4
mg
ABOUT THE RECIPE AUTHOR, LOUISE LONG
Louise is a full-time recipe creator and food blogger @ The Salted Pepper. She has over 30 years of experience with cooking and recipe development. She owned a restaurant for several years and was a full-time RN until retiring to blog full-time.
She published her first cookbook in the Fall of 2018 and is very interested in writing several more.
Louise is also the creator of an online Ninja Foodi Pressure Cooking Course with over 100 instructional step-by-step videos. People absolutely rave about the course and all the value they have received from it.
Louise has several very active Facebook groups that help people with the basics of cooking and getting the most out of the Ninja Foodi.
Louise is also a YouTube creator and you can find most of her recipes in video format on The Salted Pepper YouTube channel.
She is very responsive to messages and eager to help in any way she can. Get more Information about Louise & contact information
I WOULD LOVE TO SEE WHAT YOU ARE COOKING UP IN YOUR KITCHEN! TAG ME @THESALTEDPEPPER ON YOUR FAVORITE SOCIAL MEDIA PLATFORM WHEN YOU MAKE A DISH!
BE SURE TO FOLLOW THE SALTED PEPPER RIGHT HERE ⇓⇓⇓⇓⇓