Yes, Maryland has their own style of steaming shrimp and it's the BEST in the entire world, in my opinion!
What are the secrets? What makes these steamed shrimp better? The type of shrimp used, seasoning and technique are all the key factors in making Maryland Steamed Shrimp, but you don't have to be in Maryland to make them!
This post may contain affiliate links. If you make a purchase after clicking a link, I may earn a small commission. As an Amazon Associate, I earn from qualifying purchases.
I was born and raised in Annapolis, Maryland. The city of fresh seafood and especially the Maryland Blue Crab. It was quite a culture shock when I moved to Tennessee and realized that the selection of seafood is abysmal at best.
Unless I want to make catfish, I have a hard time finding the type of seafood that I was used to getting in Maryland.
I've been trying to recreate a Maryland Crab Soup, but without the fresh Maryland crabs; it just isn't hitting the mark. Thankfully, that is not the case with Maryland Steamed Shrimp!
You can make these delicious steamed shrimp pretty much wherever you live, but you will want to find the highest quality shrimp that you can find in your area.
While Maryland is known for our blue crabs, it isn't huge for wild caught shrimp. In fact, most of the wild caught shrimp in the US comes from the Gulf of Mexico and the Atlantic Ocean in the Carolinas and Georgia.
That means that the shrimp we get in Maryland is frozen, and it also means that you can find it no matter where you live, but you might have to drive a bit.
I had to find a Whole Foods store while Jeff and I were traveling to find the type of shrimp that would work best in this recipe and it was worth the drive. I have been eating a lesser quality shrimp since moving to TN because that's what I could get locally.
After tasting these shrimp, I will drive to get them and skip the lesser quality ones for sure.
If you are in a pinch and need to use a different type of shrimp, no worries, I will also give directions for that since I tested the recipe with easier sourced frozen shrimp.
What are the BEST shrimp for Maryland Steamed Shrimp?
First and most important, they need to be raw and not already cooked. You simply can't get the flavor into shrimp that have already been cooked.
Secondly, they must have the shells on. While you can certainly steam shrimp that have had their shells removed, you will not end up with a true Maryland Steamed Shrimp. You will also need to reduce your seasonings and steam time or the shrimp will be too seasoned (salty) and overcooked. If you must use shrimp that have had their shells removed, I would simply sprinkle a small amount of Old Bay Seasoning lightly over the shrimp and steam for 1 minute only.
Thirdly, they need to be wild caught and not farm raised. Yes, you can steam farm raised shrimp, you can even steam the ez-peel kind, but they aren't going to taste the same. I can find shell-on raw ez-peel shrimp at my local Walmart, so they are easy to find, for sure. The shells are like paper, though, and they just don't have the same texture or taste.
If you are in the US, try to find US wild caught shrimp. If you aren't in the US, try to find the best quality shrimp from a country you feel comfortable with their food practices and regulations.
If you absolutely can't find wild caught shrimp anywhere near you, then try to find the best quality of farm raised shrimp that is farmed in a country that you trust their food practices and regulations.
There is a lot of controversy over farm raised seafood, but I'm not going to get into that because I'm of the mindset that we cook what we can find locally and not everyone has access to wild caught seafood. Even if you can't find wild caught shrimp, try to find shrimp that has the shells intact verses the ez-peel kind for the best results.
If you must use ez-peel shrimp, then decrease your steam time to 2 minutes if they are extra large or jumbo. That leads into the discussion of size.
What Size Shrimp is the BEST for Steamed Shrimp?
Shrimp are sized by the approximate number of shrimp per pound. The most common sizes that I see are medium, large, extra large, jumbo, and Colossal.
Unfortunately, there doesn't seem to be one set practice or standard for naming shrimp large versus jumbo verses colossal. So, instead of getting caught up in what they have labeled the shrimp size as, go by the number per pound.
Some Jumbo shrimp will be 10-12 per pound, where others are called Jumbo when they are 14-16 per pound. You might think bigger is better when it comes to steamed shrimp, but it isn't. At least not in my opinion.
When the count per pound is less than 16, I find the shrimp to be a little tough and more difficult to steam to perfection.
You might see a "U" before the number, this simply means "under x per pound." So, U16 means that the shrimp in that bag will be under 16 per pound. While you might find one super colossal shrimp in the bag, it's not customary! Most of the shrimp will be the about the same size. Let's face it, the bigger the shrimp, the higher the price. So, no company is going to put U12 shrimp in a U16 bag.
The shrimp I used in this recipe is 16-20 per pound and they are the perfect size! Large enough to be substantial and small enough not to be tough. They might be considered extra large, jumbo, or even colossal depending on the brand, so don't get stuck on that. Look at the packaging and find the count per pound and go by that. Sometimes it's listed U16/20 or 16-20/pound or simply 16-20.
Find the closest size to U16/20 as you can and I suggest avoiding any shrimp that are U12 or under.
If you can't find U16/20, U21/25 is also a great size. Anything under that will be a little underwhelming as steamed shrimp in my opinion.
Should I Buy Fresh or Frozen Shrimp?
Unless you live in an area that has a seafood market that gets the shrimp right off the boat, always buy frozen shrimp.
Most of the shrimp you find thawed in grocery stores is previously frozen and you really have no way of knowing how long it's been thawed. I always buy frozen shrimp unless I'm at a trusted grocery store or seafood market and I'm going to cook it as soon as I get home.
Shrimp has a very short shelf life (1-2 days) once thawed, even when kept in the refrigerator, so it is best practice to buy frozen, in my opinion. Even if your grocery store only has the size shrimp that you want thawed behind the counter, if you ask them if they have a bag frozen, they usually do.
How to Safely Thaw Frozen Shrimp
Shrimp thaws very fast, so having it frozen is not an issue. There are two ways that I thaw my frozen shrimp safely.
If I know I'm going to make shrimp the next day and need to thaw it, I place the frozen shrimp in a colander over a large bowl and place it in the fridge. As the shrimp thaws in the refrigerator, the excess liquid goes into the bowl underneath.
However, I'm not a good planner and very rarely do I think to take my shrimp out to thaw in the refrigerator overnight. So, there is a quick, easy and fast way to thaw your shrimp in just 5-10 minutes.
Put them in a colander in the sink and run COLD water over them. I toss them around every few minutes to break them up and loosen any blocks of ice that have formed and they are completely thawed in no time at all.
If you aren't using them right away, make sure to refrigerate them until just before use, or if you don't have access to a refrigerator, place them in an ice bath to make sure they stay cold enough.
Seafood isn't one of those foods that you let sit out on your counter for any length of time, like you can with beef or even poultry.
What Seasoning do I Need for Maryland Steamed Shrimp?
Maryland Steamed Shrimp is all about the seasoning and there are ONLY 2 kinds of seasoning that are traditional in Maryland Steamed Shrimp.
The most common and easiest to find is Old Bay. A lot of grocery stores all across the US carry Old Bay in their spice aisle, but if you can't find it, you can also buy it on Amazon.
Old Bay is made by McCormick, a Maryland based spice company. Here is the link.
The other common Maryland seasoning is called J.O. seasoning and many Marylanders prefer this over Old Bay. Personally, I've tried both and I have stuck with Old Bay.
J.O. has two different seasoning blends called J.O. #1 and J.O. #2. I can't remember which one I've tried and, more than likely, I have had both. One of the things I noticed about J.O. seasonings versus Old Bay is J.O.'s is a little saltier to me.
I read up on it a bit and one Amazon reviewer said that the J.O. #2 seasoning which is labeled as a crab seasoning is saltier. For this reason, I suggest picking up the J.O's #1 Seafood Seasoning blend if you want to try that on your steamed shrimp.
While, you probably can't find J.O's in many stores outside of Maryland, thanks to the good old internet, you can order in on Amazon. It is more expensive than Old Bay, so if you haven't tried either, I'd opt for Old Bay to start.
*There are smaller quantities then the ones I've linked to, so if you just want a sample, look for the small bottles/bags.
If you can't find or don't have time to order either Old Bay or J.O.'s seasoning blends, don't worry! You can still make the most delicious steamed shrimp using whatever seasonings you want and this steaming technique.
How to Make Cocktail Sauce for Dipping
You can buy already prepared cocktail sauce, but I don't find it to be that great. It's so easy to make at home and you can get by with 2 ingredients.
Ketchup and horseradish is all you need, but I add in a dash of Worcestershire sauce and some people add some freshly squeezed lemon.
The type of horseradish that you will need is called prepared horseradish and it is in a jar in a refrigerated section of the grocery store. If your grocery store has a seafood section, I would look there first.
At my local Walmart it is in the refrigerated section by the yogurt. Funny place for it, but that's where it is.
The brand really doesn't matter that much, I just grab what they have and it's always been fine. Here is a link to a prepared horseradish on Amazon so you can see what it looks like, but it is much less expensive in grocery stores.
(affiliate link)Prepared Horseradish on Amazon
To make the cocktail sauce, combine ½ cup of ketchup with 1 teaspoon of prepared horseradish and ½ Tablespoon of Worchestire sauce and/or ½ teaspoon of lemon juice. Mix together and taste for spiciness. This should be a fairly mild tasting cocktail sauce and you can add more prepared horseradish sauce until you get the degree of spiciness you like.
No worries if you add too much and it's too spicy, just add some more ketchup and that will tone it down.
You can make as little or as much cocktail sauce as you want. Freshly made cocktail sauce will last a few weeks in the refrigerator, so it can easily be made ahead of time.
Can I Steam Shrimp Ahead of Time?
Yes, absolutely! Steamed shrimp are good hot or cold. They will last in the refrigerator for about 3 days after steaming.
Steamed shrimp is a great party food and you can steam several pounds at a time in the Ninja Foodi, refrigerate them and then serve them within 3 days.
If you want to steam more than 1 pound of shrimp in the Ninja Foodi, I would not increase the steaming time, but I would toss the shrimp around after they are steamed and if you see any shrimp that didn't steam, close the lid and let the heat in the pot finish steaming them.
How do I Make Maryland Steamed Shrimp if I don't have the Ninja Foodi Pressure Cooker & Air Crisper?
You can steam shrimp the same way on the stove using a large pot with a lid and a steamer insert or even a metal colander that fits on the rim of the pot will work just fine. You just want to make sure that the shrimp are not sitting in the beer or water because then you will be boiling them and not steaming.
Usually, when steaming shrimp on the stove, I add 2-4 cups of liquid, depending on how big the pot is and I turn the heat on high with a lid on the pot. When steam begins to build, I add the onions, steam for about 3 minutes and then add the shrimp and steam for 5-7 minutes, depending on size.
The reason the time is longer on the stove is because the shrimp aren't in the pot while the steam is building like they are in the Ninja Foodi and the time it takes the Ninja Foodi to build the steam is cook time for the shrimp.
We don't usually take an internal temperature of steamed shrimp and, in fact, when I looked up what it should be, I had some articles say 120℉ and others 165℉. I decided to go to the USDA website to see what they had to say and their temperature chart says 145℉.
I have never temped a steamed shrimp in my life because it is really easy to tell when they are done. The flesh turns opaque and has deep red accents. If the shrimp is translucent, it is not all the way cooked.
You can also make Maryland Steamed Shrimp in your Instant Pot, but there are a few things I want to point out. There are numerous models of Instant Pots out there and the most important thing you want to find out before you start steaming your shrimp is if your valve seals when steaming or if it is open.
On the Ninja Foodi Pressure Cooker and Air Crisper, the valve stays vented for true steaming. However, on the Instant Pot Duo Crisp, the steaming function won't countdown unless the valve is sealed.
It is my understanding that there are 1 or 2 Instant Pot models that don't seal the pot during steaming, but most of them do. Once the pot is sealed, you are essentially pressure cooking because the steam is trapped inside the pot which is what creates pressure.
If you have an Instant Pot that seals the pot during steaming, simply decrease your steam time to zero or 1 minute and then do an immediate release.
How to Make Maryland Steamed Shrimp in the Ninja Foodi
I absolutely LOVE using the Ninja Foodi as a steamer. The steam function is wonderful for reheating leftovers without overcooking or drying out foods and, of course, it is perfect for steaming seafood like these Maryland Steamed Shrimp!
It is super easy, too!
You want to make sure your shrimp are thawed, so if they are frozen follow one of the techniques above in the post to thaw them. It's also helpful if you place them in a colander to drain the excess liquid until you are ready to season them.
Pour the 2 bottles or cans of COLD beer into the inner pot. You need the beer to be cold or the times in this recipe will not be accurate. You want a total of 24 ounces of liquid. If you don't want to use beer, just use cold water.
Next, cut up your onion into chunks. The easiest way to do this is to cut the onion in half through the root and stem ends. Cut the root end and stem off of the half of onion and peel the outer layer off. Then cut into 3-4 sections. Repeat for the second half. Separate the onion layers and place them in the basket.
Put the two bay leaves on top. Sprinkle the onions with half of the mustard seeds half of the whole peppercorns (if using) and half of the Old Bay.
Place the pressure lid on and turn the valve to VENT. Select the steam function and set the time to 2 minutes. When the time is up, remove the lid. If the pin in the back is still up, wait for it to go down and then open the lid.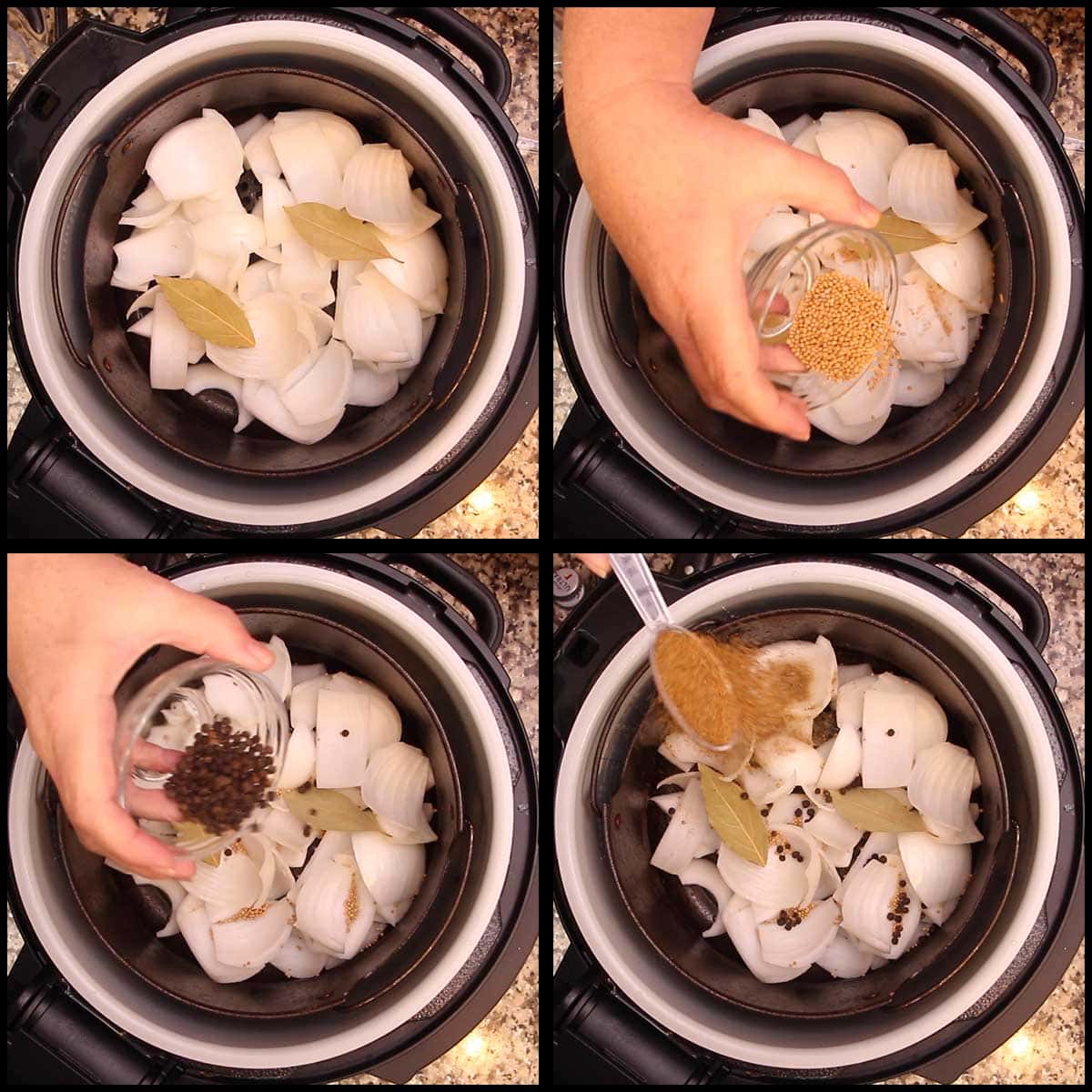 Toss the shrimp in the old bay seasoning and add to the basket. Sprinkle the remaining mustard seeds and whole peppercorns on top. Place the pressure lid on and turn the valve to VENT. Select the steam function and set the time to 3 minutes. When the time is up, remove the lid. If the pin in the back is still up, wait for it to go down and then open the lid.
Place the shrimp and onions on a serving platter. Mix the ingredients for the cocktail sauce into a bowl.
Serve & Enjoy!
Maryland Steamed Shrimp
Perfectly cooked shrimp on a bed on onions with seasonings served with homemade cocktail sauce
Print Recipe
Pin Recipe
Ingredients
2

12-ounce

beers

any kind is fine or use water

1

large

white onion

1

pound

Extra Large Shrimp with the shells on

16-20 per pound is a great size

2-3

tablespoon

(affiliate link)

Old Bay Seasoning

2

bay leaves

1

tablespoon

mustard seed

1

tablespoon

Whole Peppercorns

optional
Homemade Cocktail Sauce
½

cup

ketchup

½

tablespoon

Worcestershire sauce

1-3

teaspoon

prepared horseradish

½-1

teaspoon

freshly squeezed lemon juice

optional
Instructions
If your shrimp are frozen, make sure to thaw them before steaming.

Pour 2 COLD beers or 24 ounces of water into the inner pot. Place the basket in the inner pot.

Cut the onion in half and remove the outer skin. Cut the root end and the steam end off and cut the onion into 3-4 chunks. Repeat for the second half of the onion. Separate the onion layers and place them in the basket in the inner pot.

Add the bay leaves, ½ of the mustard seeds, ½ of the old bay seasoning, and ½ of the whole peppercorns on top of the bed of onions. Place the pressure lid on and turn the valve to VENT. Set the function to steam and the time to 2 minutes. When the time is up remove the lid. If the pin is up in the back, wait for it to go down and then remove the lid.

Coat the shrimp with the remaining old bay seasoning and add to the basket. Add the remaining mustard seeds and the peppercorn on top of the shrimp. Place the pressure lid on and turn the valve to VENT. Set the function to steam and the time to 3 minutes. When the time is up, remove the lid. If the pin is up in the back, wait for it to go down and then remove the lid.

Pour the shrimp and onions onto a serving platter. Mix up the cocktail sauce by combining the ingredients in bowl. Serve & Enjoy!
Notes
Nutritional Values are for the Shrimp & Onions with seasonings only. The cocktail sauce is not included.
To make steamed shrimp stovetop, boil the 2 beers (or 24 ounces water) in a large pot on the stove. Place the onions, and ½ of the seasonings on top of the onions with the bay leaves onto the bottom of a steamer basket or metal colander. Place a steamer basket or metal colander into the large pot making sure the shrimp will not be in the liquid and put a lid on it. Steam for about 3 minutes. Add the remaining seasoning to the thawed shrimp and add to the steamer basket. Put the lid on and steam for 5-7 minutes or until the shrimp are no longer translucent.
Nutrition
Serving:
0.25
pound
Calories:
155
kcal
Carbohydrates:
7
g
Protein:
25
g
Fat:
3
g
Saturated Fat:
1
g
Cholesterol:
286
mg
Sodium:
884
mg
Potassium:
213
mg
Fiber:
2
g
Sugar:
2
g
Vitamin A:
66
IU
Vitamin C:
8
mg
Calcium:
211
mg
Iron:
4
mg
ABOUT THE RECIPE AUTHOR, LOUISE LONG
Louise is a full-time recipe creator and food blogger @ The Salted Pepper. She has over 30 years of experience with cooking and recipe development. She owned a restaurant for several years and was a full-time RN until retiring to blog full-time.
She published her first cookbook in the Fall of 2018 and is very interested in writing several more.
Louise is also the creator of an online Ninja Foodi Pressure Cooking Course with over 100 instructional step-by-step videos. People absolutely rave about the course and all the value they have received from it.
Louise has several very active Facebook groups that help people with the basics of cooking and getting the most out of the Ninja Foodi.
Louise is also a YouTube creator and you can find most of her recipes in video format on The Salted Pepper YouTube channel.
She is very responsive to messages and eager to help in any way she can. Get more Information about Louise & contact information
I WOULD LOVE TO SEE WHAT YOU ARE COOKING UP IN YOUR KITCHEN! TAG ME @THESALTEDPEPPER ON YOUR FAVORITE SOCIAL MEDIA PLATFORM WHEN YOU MAKE A DISH!
BE SURE TO FOLLOW THE SALTED PEPPER RIGHT HERE ⇓⇓⇓⇓⇓