Quick & Easy Instant Pot Chili is so well balanced in flavor you will think you simmered it all day!
This Chili is ready in 30 minutes and everything cooks right in your pressure cooker!
Stove top & Slow Cooker instructions in post too!
This post may contain affiliate links. If you make a purchase after clicking a link, I may earn a small commission. Thank you for your support!
It's Chili Time
You know when you are craving a hot bowl of chili, but don't have all day to make it? This recipe for Quick & Easy Instant Pot Chili is the answer! Very little prep time involved and it cooks in just 10 minutes in the Instant Pot (this is the one I have) or pressure cooker.
We love all kinds of Chili in our house and usually try to get creative when making chili, like my all time favorite Thai Curry Chili or my husband's favorite, Pork Loin & Apple Chili. We have been known to spend days making chili, but sometimes you just want that traditional perfect bowl of chili and this recipe for Instant Pot Chili is it!
How spicy is it?
It's not spicy at all.
While perfectly balanced in flavor, I kept this chili on the mild side of spiciness so that everyone can enjoy their bowl of chili as they like it. For my mild mannered friends, this chili will be perfect.
Make the seasoning mix:
2 Tablespoons Dark Chili Powder
1 Tablespoon Cumin
½ Tablespoon Garlic Powder
½ Tablespoon Smoked Paprika (regular will work, but I love the hint of smokiness this brings)
½ Tablespoon Sea Salt
¼ teaspoon Chipotle Pepper
Combine all spices together for seasoning blend.
For my spicier friends, here's what you do! Double or even triple the amount of chipotle pepper in the rub if you like a smoky spice. If you prefer less of a smoky spice, try substituting cayenne in the rub or even a combination of both chipotle and cayenne. Isn't that the beauty of a good chili? Start with a base recipe and add to it until it becomes YOUR perfect chili!
My husband likes to add Cholula to his bowl of chili just before he devours it!
Let's talk pressure cookers!
I LOVE MINE!!! I mean I REALLY LOVE mine! It took me a while to warm up to the idea of getting one, so I am WAY behind the trend and just getting to know my Instant Pot. Did I mention that I LOVE it? I've been cooking up all kinds of stuff like, quinoa, pot roast, Mexican Butternut Squash Soup and homemade Greek yogurt just to name a few. I'm constantly amazed at how well and how QUICK food cooks! I'm in LOVE for sure.
I'm using the Instant Pot 8 quart Ultra which has all the bells and whistles.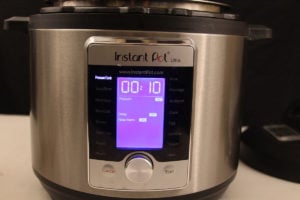 Do I need half of them? Probably not. Do you have to buy an Instant Pot? Probably not. I'm sure there are other brands out that work just as well. The one thing I really love about my Instant Pot is the automatic sealing feature. I'm pretty scatterbrained and I know I would forget to push the sealing button all the time if it didn't have this feature.
Honestly, I don't know enough about pressure cookers to say that the Instant Pot is better than any other brand of pressure cooker. It's just the brand that gets all the buzz and the brand I decided to purchase during a great Amazon sale!
Now, the important stuff! If you don't have a pressure cooker... get one! It will change your life. I'm not exaggerating! I've been cooking almost all of our dinners in it over the past couple of weeks and have not been disappointed once. In fact, I was a bit upset last night when I went to make a pork loin and remembered that the pot roast left overs were still in the Instant Pot inner pot in the fridge so I had to use the oven... bummer!
Making Quick & Easy Instant Pot Chili
The process couldn't be simpler and it goes like this.
Step One: Gather your ingredients. Combine dry spices to make seasoning mix. Dice your onion. Set your pressure cooker to the Saute Mode and set time for 10 minutes. Add ground turkey, seasoning mix, onions, and Worcestershire sauce. Saute and stir for 10 minutes or until ground turkey is cooked through.
Step Two: Peel and chop the apple. Add chopped apple and the remaining ingredients to your pressure cooker/ Instant Pot. Choose the pressure cook setting and set to high, remember to depress the sealer if your cooker does not do this automatically. Set time for 10 minutes and start cooking. *the pressure cooker will take several minutes to come up to pressure, so the cook time is slightly longer than 10 minutes.
Step Three: When the 10 minutes is complete. Allow the pressure cooker/ Instant Pot to self release for 10 minutes, then press the valve to release the remaining pressure. Top your bowl of chili with your desired toppings. Green onions and cheese are my go-to's! Oh... and Fritos! If I wasn't watching my carb intake, I'd load that bowl up with crunchy Fritos! Serve & Enjoy
Don't have an Instant Pot or pressure cooker?
No problem! We won't leave you out! This chili is WAY too good to pass up just because you don't have a pressure cooker.... but I do recommend looking into getting one! You will save so much time!!! They have multiple models available at different price ranges. This 6 quart Instant Pot is less than $100. If you cook large quantities or for a big family, I'd recommend looking into the 8 quart Instant Pot.
Not to worry though, while you are shopping for your pressure cooker, you can still make this recipe on the stove top or in a slow cooker with just a few alterations!
Stove top: In a heavy bottomed pot (like this one) or dutch oven (at least 6 quarts), add 1-2 tablespoon of olive oil, seasoning blend, chopped onions, and ground turkey. Brown the ground turkey over medium heat for about 10 minutes or until the turkey is cooked through. Peel and dice apple. Add remaining ingredients and reduce heat to simmer. Cook on low, stirring occasionally, for at least 2 hours to allow flavors to develop.
Slow Cooker: In a frying pan over medium heat, add 1-2 tablespoon olive oil. Add chopped onion, ground turkey, & seasoning blend. Brown Turkey for about 10 minutes or until cooked through. Chop apple and add to slow cooker with browned turkey/onion mixture. Add remaining ingredients and cook on High for about 2-4 hours or on low for 4-6 hours.
Don't forget to share this recipe with your friends so they can enjoy Quick & Easy Instant Pot Chili too!
Here are some other chili recipes that are super wonderful too! Enjoy!
Pork Loin & Apple Chili
(please forgive that horrid picture!)
That's it for now, my friends! Enjoy!
Quick & Easy Instant Pot Chili
This perfectly balanced Chili is ready in just 30 minutes! Make it with turkey or beef. Super easy to make in your pressure cooker and tastes like it simmered all day.
Print Recipe
Pin Recipe
Ingredients
1-2

tablespoon

olive oil

2

lbs

ground turkey or ground beef*

nutritional values are calculated using ground turkey

2

medium

vidalia onions

about 1 ½ cups of diced onion

2

tablespoon

Worcestershire sauce

5

Tbsp

homemade chili seasoning

recipe in post

2

15.5 oz

Kidney Beans

drained and rinsed

4

14.5 oz

Fire Roasted Tomatoes

with juice

2

medium

granny smith apples

diced
Instructions
Program your pressure cooker to saute, add olive oil. Chop onion. Add onion, ground turkey (or beef), Worcestershire sauce and 5 tablespoon homemade chili seasoning. Saute for 10 minutes or until turkey is cooked through.

Peel and dice granny smith apple and add to pressure cooker. Add remaining ingredients. Program your pressure cooker to High pressure for 10 minutes and start.

After 10 minutes of cooking is complete, allow pressure cooker to slow release it's pressure for 10 minutes, then manually release the remaining pressure.

Add your yummy toppings, serve & enjoy!
Notes
Spice it up by simply adding more Chipotle Pepper!
*** Stove top & Crock Pot instructions in post***
Nutrition
Serving:
1
cup
Calories:
266
kcal
Carbohydrates:
30
g
Protein:
24
g
Fat:
7
g
Saturated Fat:
2
g
Cholesterol:
64
mg
Sodium:
101
mg
Potassium:
66
mg
Fiber:
1
g
Sugar:
8
g
Vitamin A:
20
IU
Vitamin C:
2.1
mg
Calcium:
6
mg
Iron:
0.2
mg
Don't forget to follow me on: