Crab Rangoon is an easy appetizer to make, but there is a little bit of technique to folding them.
After countless failed attempts, I have come up with a system that works perfectly and makes homemade crab rangoon much easier. In this step-by-step recipe tutorial, I will show you exactly how to make the filling and the best way to fold the crab rangoon. I also share my tips for brushing the edges of the wonton wrappers, which is a key step! You can also follow along with a step-by-step video and fold the crab rangoon right along with me!
Once you read through this article, you will be folding up beautiful crab rangoon and impressing everyone you serve them to!
In this recipe, I air fry the crab rangoon, but you can also follow the same recipe and deep fry them. I will give instructions for both ways.
Ingredients & Substitutions
You only need 4 simple ingredients and wonton wrappers to make this recipe and the ingredients are customizable.
Wonton Wrappers
You can usually find wonton wrappers in most grocery stores. They are more readily available than they used to be that is for sure. Ideally, you want to get the square wrappers that are specifically for wontons, but if you can't find them, you can use egg roll wrappers and cut them to size.
The issue with egg roll wrappers is that if you cut them in half, they aren't square, making it harder to wrap the wontons. So, I recommend cutting them into 3.5"x3.5" squares and cutting any leftover eggroll wrapper into strips and fry them for soup or salad toppings.
You can also make your own wonton wrappers with just some bread flour and water. It helps to have a pasta machine to get the wrappers super thin.
Crab
The "crab" in Crab Rangoon is often imitation crab meat made from pollock. If you have never had imitation crab meat before, it differs from actual crab meat. The texture is firmer and the flavor is sweeter. You certainly can use real crab meat to make your crab rangoon, but I wouldn't spend the money on lump crab meat. Try using the claw meat which is less expensive and usually free of shells. When buying any seafood, make sure to see where it is sourced from because the quality differs greatly. You may also want to add a touch of sugar to the crab mixture to get closer to the sweetness of imitation crab meat.
If you don't want to use real crab or imitation crab meat, try using shrimp! It's actually one of my favorite fillings for fried wontons. The sweetness of the shrimp is perfect with the cream cheese and other filling ingredients.
Another option is snow crab legs, they are sweet and would be a great option. They tend to be saltier, so don't add any salt until tasting the filling.
You can also skip the crab meat or other seafood and make cream cheese wontons.
Cream Cheese
I recommend using full-fat cream cheese for the best filling flavor and texture, but you can use lower-fat alternatives if desired. I prefer to use the block cream cheese, but you can also use whipped cream cheese.
Cream Cheese is the prominent ingredient in crab rangoon and although you can omit it, you will be making fried wontons with a sweet or savory filling and not crab rangoon.
Seasonings
The seasonings I use are Worchestershire sauce and finely chopped green onions. You can use soy sauce instead of Worcestershire sauce.
Some people like to add garlic powder and/or onion powder to the crab and cream cheese mixture, but I don't think it's necessary. I like the simple flavors of the crab and cream cheese to shine.
Often times at Chinese restaurants, the filling will be very sweet. If that is the flavor you want, add about ½-1 Tablespoon of sugar to the filling.
Tips for Making Crab Rangoon
Please don't let making homemade crab rangoon intimidate you, the process is really easy. Even folding the Rangoon into its signature 4-star shape is easy when you follow my method.
Here are some tips to make it even easier so you can impress your friends and family with your crab rangoon-making skills.
Gather the supplies you need and set up a work area. I recommend using a cooling rack for the assembly, this is the key step that I found to make the most difference. A bowl of warm water and a pastry brush are also helpful.
Make sure the cream cheese is at room temperature. This ensures all the ingredients mix easily together.
Preheat the air fryer. This is very important when making air fryer rangoon because you want the wonton wrappers to start to cook quickly so they hold their beautiful shape and become nice and crunchy.
Chop the seafood into small pieces. Bigger pieces tend to poke out of the mixture and can cause holes in the wonton wrappers which can cause leaking during the cooking process.
Don't use too much filling. Less is more when making crab rangoon. Too much filling will cause the wonton wrappers to break open and you will end up with even less filling than if you started with the recommended amount of 1-1½ teaspoons.
Take your wonton wrappers out of the fridge when you first start making the filling. If the package is open, don't put a damp towel over them, instead put them in an airtight container or zip lock bag. A damp towel can cause them to tear too easily.
Place the water used to seal the wonton wrappers close to the filling to avoid puffy crab rangoon. You want the wrappers to be sealed close to the filling so air is not trapped. It's the same principle as making ravioli.
Take your time. At first, the folding might seem cumbersome, but after a few tries, you will be a pro and whip them out in record speed.
How to Make Crab Rangoon
Making crab rangoon is a three-step process, you make the filling, then assemble the wontons in the shape you want, and then choose your cooking method.
Making the filling is super easy once you decide on what ingredients you want to include.
The traditional shape of crab rangoon is a 4 pointed star and that is the method I am detailing here in this post. You can also fold them into a simple triangle, or a more traditional wonton shape.
I find that the 4-pointed star is the best shape for crispy crab rangoon that don't puff up when cooked.
When it comes to cooking them, Air Frying and Deep Frying are the two methods that give the best results, but you can try to oven-bake them as well.
Preparing the Crab Rangoon Filling
If you are using imitation crab meat or snow crab leg meat, you will want to chop it up into small pieces. If you are using canned or fresh crab meat, it will break up on its own when mixed with the cream cheese.
Shrimp need to be sautéed first and then chopped into small pieces. If you use larger pieces of crab or shrimp it makes it more difficult to fold the wontons.
Anything you put into the filling needs to be safe to eat as is. That means if it needs to be cooked to be eaten safely, cook it before putting it into the filling. If you cook it, then also chill it or the heat will make the cream cheese too runny.
Imitation crab meat, snow crab legs, and canned or fresh crab out of the shell are usually fully cooked. Read the label if you have any questions about the need to cook it. If it says "fully cooked," no need to cook it.
Chop the seafood into small pieces using either a sharp knife, an electric food processor (pulse mode only), or what I like to use is my manual food processor from Pampered Chef. The manual food processor allows me full control over the size of the pieces and when I'm done, I use the bowl to mix the rest of the ingredients.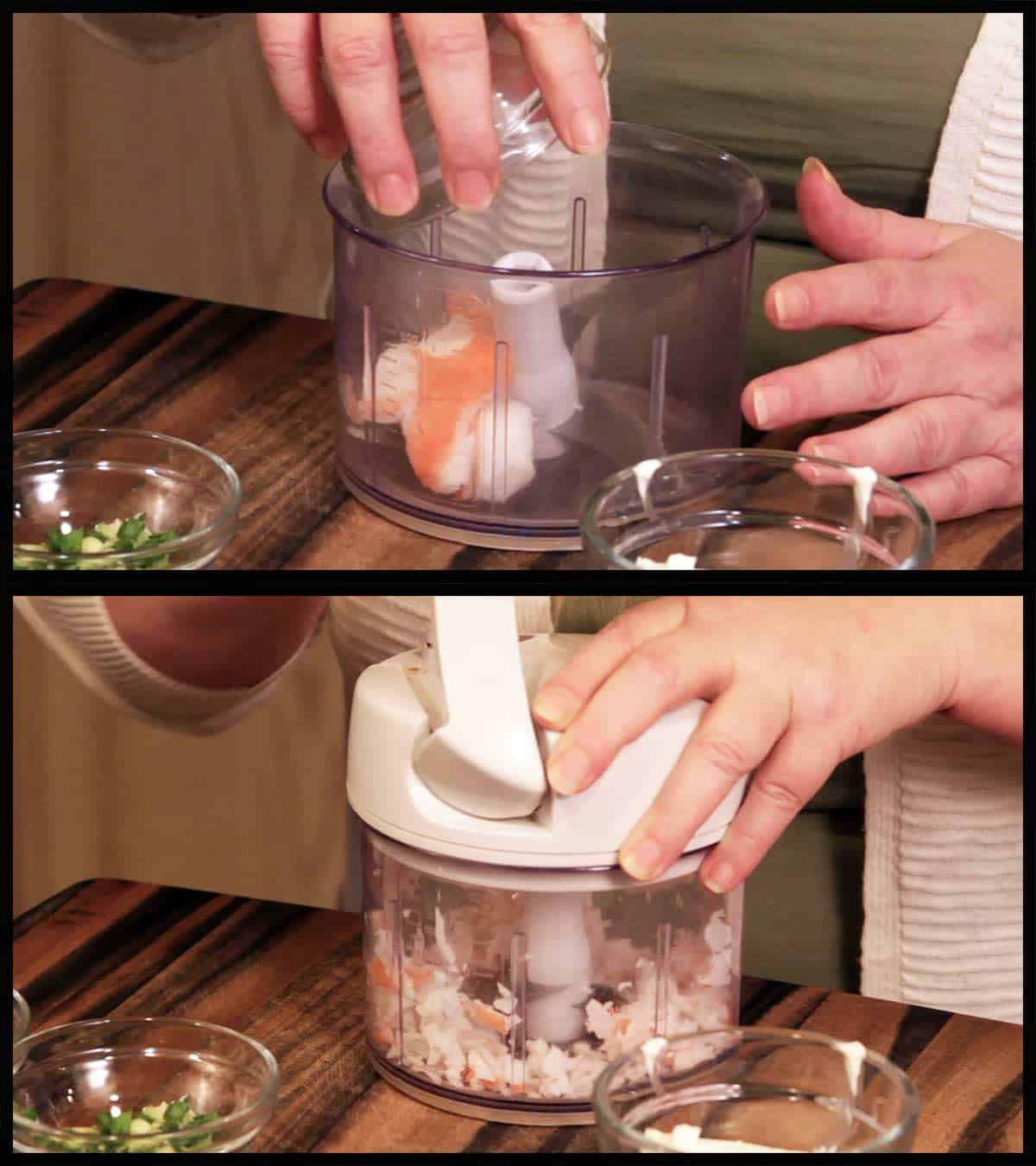 Once the seafood is chopped, add the room-temperature cream cheese, finely chopped green onions, and Worcestershire sauce. Mix to combine all ingredients.
Once all the ingredients are mixed together for the filling, you are ready to assemble and fold the crab rangoon.
Assembling & Folding Crab Rangoon
Lay out your wonton wrappers on the cooling rack. The reason I use a cooling rack and not a cutting board or other clean flat surface is because of the moisture that comes from the water used to seal the wontons.
This was my BIG MISTAKE during my failed attempts at making crab rangoon. No matter how careful you are, water will accumulate on the cutting board or flat surface and make a mess of your wonton wrappers.
Trust me on this one, use a cooling rack or some other rack with holes. It makes life so easy!
Place 1-1½ teaspoon of the creamy crab filling into the center of each wonton wrapper. I use my small scoop from Pampered Chef to make this quick and easy.
I do this in an assembly-line fashion because it makes things quicker for me. You can certainly fill and fold one at a time if you prefer. When you are first starting out making your own crab rangoon, you may want to get the hang of folding them before having multiple wrappers out at once. They do dry out quickly which makes them harder to fold and sometimes brittle if they get too dry.
Folding Wonton Wrappers into Crab Rangoon Shape
Like I said earlier, you don't have to fold the wrappers into 4-point stars, you can simply fold them into triangles. However, for the best crunch and texture, the 4-point star is the way to go and I promise, it isn't hard to do.
Fill a small bowl with warm water and use either a pastry brush or a clean finger to dot water close to the filling and aligned with the corners of the wonton wrapper.
To give you a visual, take your finger and draw a line from on corner of the wonton wrapper to the filling. That is where you want to place the water. Do that for all 4 corners.
Then take the wonton wrapper and hold it in the palm of your hand. Take the other hand and bring the opposite corners together so they touch. Pinch down near the filling where you placed the water. That will seal the wonton around the filling.
Next, pull one of the other corners so it meets the sealed ones in the center and crimp to seal it. Repeat for the last corner.
Repeat for the remaining crab rangoon.
Sometimes it's easier to watch someone doing something rather than rely on still photos and since folding crab rangoon is the most challenging part of the entire recipe, here is a video where I fold the wonton wrapper and you can follow along.
You can also fold them into a simple triangle shape and then bring the bottom two corners together to make a shape.
Air Fryer Crab Rangoon Instructions
I used the Ninja Foodi Pressure Cooker & Air Crisper for this recipe, but any air fryer will work just fine. Make sure to check on your crab rangoon as they cook because each air fryer is a little different.
Preheat the air fryer on its hottest setting for a full 10 minutes WITH the air frying basket or crisping rack inside the appliance. This is very important because you want the wonton wrappers to start to crisp and cook quickly.
Once the Ninja Foodi or other air fryer has been preheated, spritz the air fryer basket, rack, or crisping plate with oil of your choice, add the wontons in a single layer and spritz the wonton wrappers on top.
Select the air fry or air crisp function and set it to 300°F/150°C. Air fry for 5 minutes. Then turn each one on its side and air fry for another 3-5 minutes or until they are golden brown and crunchy.
If they aren't turning golden brown, increase your temperature. If they are getting too brown, too quickly, lower the temperature or set them lower in the air fryer so they are further away from the heat source.
Remove and allow to cool on a cooling rack until you are ready to serve. I do this so they don't steam on the bottom and get soft. Serve with your favorite dipping sauce and enjoy! I made a pineapple sweet and sour sauce to go with mine and it's perfect!
Deep Fried Crab Rangoon Instructions
Whether you air fry or deep fry your crab rangoon, the filling and assembly instructions remain the same. You can either deep fry in a pot on the stove or in a special appliance made for deep frying.
If you are using an appliance for deep frying, follow the manufacturer's instructions and you want the oil to heat up to between 350-375℉/176-190℃.
Managing the temperature of the oil is the most critical part of deep frying. You will want to have a thermometer to monitor the temp and make sure it is a thermometer rated for deep frying.
If you are deep frying on the stove, fill a large pot with about 3-4" of oil. The best oil to use for deep frying is going to be neutral in flavor. Peanut oil, Canola Oil, and Vegetable Oil are the most common choices.
Once the oil has heated to the correct temperature, add 4-6 crab rangoon into the oil. You don't want to add more than that or the oil can cool down too much and result in soggy and oily wontons instead of crispy wontons.
It will only take 2-3 minutes for the crab rangoon to turn golden brown and then you want to remove them with a metal slotted spoon or tongs. Place them on a paper towel-lined baking sheet to drain for a few minutes and then transfer them to a cooling rack until you are ready to serve them.
They are best served immediately.
Frequently Asked Questions
Can I freeze Crab Rangoon?
Yes, they freeze wonderfully. You can either make them up and freeze them before or after air frying. Either way, you will want to freeze them on a parchment-lined sheet pan for several hours.
Once they are completely frozen, you can put them in an airtight container or freezer bag and store them in the freezer until you are ready to use them.
They should last a few months in the freezer, but I would check them, because, if they develop any ice crystals, they will not cook up as well.
Make sure not to place anything heavy on top of them because they are fragile even when frozen.
How do I air fryer Frozen Crab Rangoon?
If they are cooked already, I found that using the Air Crisp function on 330° F for 8 minutes worked great. You do not need to preheat when they are already cooked.
If they are not cooked, I would use the same temperature, but you will probably have to cook them for 10-12 minutes. Don't forget to spritz them with a little oil for the best results. You will want to preheat on broil for 10 minutes before cooking.

What to serve with Crab Rangoon
Crab Rangoon is usually served as an appetizer before a meal or it makes a great party food when you want small bites of delicious appetizers!
Here are some recipes that pair perfectly with crab rangoon!
Air Fryer Crab Rangoon Recipe
Delicious Crab Rangoon in the Air Fryer.
Print Recipe
Pin Recipe
Ingredients
2

ounces

imitation crab meat

2

ounces

cream cheese

room temp

1½

Tbsps

green onions

chopped small

½

tablespoon

Worcestershire sauce

16

wonton wrappers

oil for spritzing
Instructions
Mix together the cream cheese, imitation crab meat, green onions, and Worcestershire sauce in a small bowl.

2 ounces imitation crab meat,

2 ounces cream cheese,

1½ Tbsps green onions,

½ tablespoon Worcestershire sauce

Preheat your air fryer on the hottest setting with the crisping basket or crisping plate inside the appliance for a full 10 miutes.

While the Air Fryer is preheating, start folding up your crab rangoon. Place 8 wonton wrappers (or as many as will fit) on a cooling rack. This will prevent them from becoming too wet. Place 1-1½ teaspoons of filling in the center of each wonton. Apply a dab of water close to the filing lined up with each corner. Make a triangle shape by pulling opposing corners to the center and pinching close to the filling. Then complete the shape by pushing one of the remaining corners to the center and pressing to seal. Repeat with the final corner.

Spritz the basket with oil. Place 8 crab rangoon in the basket and select the air fry or air crisp function on 300°F/150°C and let air fry for 5 minutes. Turn each one on its side and spritz again with oil. Air fry another 3-5 minutes or until golden brown

Remove and allow to cool on the cooling rack until you are ready to serve. Repeat with second batch. Serve with your favorite dipping sauce & Enjoy!
Notes
Do not overfill wonton wrappers or they will leak during cooking.
Nutrition
Serving:
2
crab rangoon
Calories:
76
kcal
Carbohydrates:
11
g
Protein:
2
g
Fat:
3
g
Saturated Fat:
1
g
Cholesterol:
10
mg
Sodium:
159
mg
Potassium:
31
mg
Fiber:
1
g
Sugar:
1
g
Vitamin A:
106
IU
Vitamin C:
1
mg
Calcium:
14
mg
Iron:
1
mg
ABOUT THE RECIPE AUTHOR, LOUISE LONG
Louise is a full-time recipe creator and food blogger @ The Salted Pepper. She has over 30 years of experience with cooking and recipe development. She owned a restaurant for several years and was a full-time RN until retiring to blog full-time.
She published her first cookbook in the Fall of 2018 and is very interested in writing several more.
Louise is also the creator of an online Ninja Foodi Pressure Cooking Course with over 100 instructional step-by-step videos. People absolutely rave about the course and all the value they have received from it.
Louise has several very active Facebook groups that help people with the basics of cooking and getting the most out of the Ninja Foodi.
Louise is also a YouTube creator and you can find most of her recipes in video format on The Salted Pepper YouTube channel.
She is very responsive to messages and eager to help in any way she can. Get more Information about Louise & contact information
I WOULD LOVE TO SEE WHAT YOU ARE COOKING UP IN YOUR KITCHEN! TAG ME @THESALTEDPEPPER ON YOUR FAVORITE SOCIAL MEDIA PLATFORM WHEN YOU MAKE A DISH!
BE SURE TO FOLLOW THE SALTED PEPPER RIGHT HERE ⇓⇓⇓⇓⇓