Jasmine Rice Pudding is one of those simple, yet sophisticated desserts that you can whip up in no time!
Is it just me or is Rice Pudding overlooked a lot of times as a great dessert or sweet treat? I think a lot of people think of it as an old fashioned dessert (nothing wrong with old fashioned!) and skip on past it, in favor of lava cake or something sensational like that.
This post may contain affiliate links. If you make a purchase after clicking a link, I may earn a small commission. As an Amazon Affiliate, I earn from qualifying purchases.
Lava cake is wonderful, don't get me wrong. If you are in the mood for a decadent chocolate dessert, check out these flourless chocolate cake bites, they are so easy in the Ninja Foodi and taste delcious.
Equally delicious is this recipe for Jasmine Rice Pudding. There is really something special about the jasmine tea and spices combined with the creamy custard of an "old fashioned" rice pudding. It's darn delicious for sure!
What is Rice Pudding?
In case you aren't familiar with rice pudding, it is a combination of rice, water and/or dairy, spices and sometimes raisins or other mix-ins.
It is usually made with long grain white rice or jasmine rice in the United States and with pudding rice (more like Abario rice) in the United Kingdom.
There are many different cooking techniques and ingredients used, but the end result should be a creamy and flavorful consistency. This Jasmine Rice Pudding is just that!
Can I make a More Traditional Rice Pudding in the Ninja Foodi?
Of course! If you aren't a fan of jasmine or you just want a basic rice pudding, this recipe is easy to convert.
Instead of the Jasmine infused tea, use plain water.
Skip the cardamom and increase the cinnamon to 1-1 ½ teaspoon and the nutmeg to ½ tsp. You can always add more cinnamon and nutmeg at the end, so I recommend going lite on them in the beginning. Too much of either spice can ruin your rice pudding.
If you want to use regular raisins instead of golden raisins, simply switch them out. You can also used dried cranberries if you'd like.
Everything else stays the same.
How Do I Reheat Rice Pudding?
Jasmine rice pudding or any rice pudding will thicken as it cools, so I do recommend adding milk, half & half, or heavy cream after reheating so you have that wonderful creamy texture.
You can reheat Jasmine Rice pudding in the microwave. Reheat on high in 30 second intervals, stirring after each 30 seconds until it reaches the desired temperature. Add some milk or cream and stir.
My favorite way to reheat Jasmine Rice Pudding is in the Ninja Foodi. The Ninja Foodi is magical in so many ways and reheating food is one of them!
Put the amount of Jasmine Rice Pudding you want reheated into a cake pan and cover. I usually use Fat Daddio cake pans because of their quality, they last for ever! The two sizes I use the most with the Ninja Foodi are the 6" and the 8". Put the pan on the rack in either position and add 2 cups of water to the inner pot of the Ninja Foodi. Put the pressure lid on and and turn the black valve to vent. When steaming any food, it is important to remember to turn the valve to vent. Select the steam function and set the time for 10 minutes.
When the 10 minutes is up, your jasmine rice pudding will be gently reheated and you can add a touch of milk or cream and stir it in and it is as good as the day you made it!
Ways to Brew Jasmine Tea
French press: If you have a French press, this is a great way to brew tea for Jasmine Rice Pudding. I used a French press, like this one from Bodum to brew jasmine tea for this recipe. Add 2 cups of very hot water with 2 tablespoon of loose jasmine tea. Let steep for about an hour, press and pour until you have 1 ½ cups of jasmine tea.
Jasmine Tea Bags: You can probably find jasmine tea bags at your local grocery store, but if not they are available on Amazon by several different brands. You can't go wrong with this Twinings Jasmine Tea and the price is pretty good, too! You will want to use about 4 tea bags per 2 cups of water. We only need 1 ½ cups for this recipe, but I like to use 2 cups because the tea bags will absorb some water.
Use a Keurig: If you use a Keurig for your coffee and have one of these money saving cups to put ground coffee in, then you can use it and just add 2 tablespoon of loose jasmine tea. I like to set it for strong and only 4 ounces. Then I keep the same tea, but run the program for 4 ounces 3 times. Not sure if this makes any difference or not, but that is what I do.
Coffee Pot: you can also use your coffee pot with either the loose jasmine tea in a coffee filter or jasmine tea bags in the pot. Use either 2 tablespoon of the loose tea or 4 tea bags.
Skip it: You can also skip it! Your Jasmine Rice Pudding will still be delicious, but I guess it won't be Jasmine Rice Pudding exactly. No worries, don't let the Jasmine tea cause you to miss out on this delicious rice pudding!
How to Make Jasmine Rice Pudding
Brew Jasmine tea using your preferred method.
Rinse 1 cup of Jasmine or White rice until the water runs clear. This takes a few minutes. The easiest way I've found is by using a fine sieve strainer.
Add tea and rice to the inner pot of the Ninja Foodi or pressure cooker.
Stir in spices; ½ teaspoon of cinnamon, ¼ teaspoon nutmeg, 2 teaspoon cardamom, and ⅛ teaspoon of sea salt. If you don't want to use the cardamom (I really hope you give it a try), then increase the cinnamon to 1 ½ teaspoons and the nutmeg to ½-1 tsp.
Put the pressure lid on and make sure the black valve is to the seal position. Set the pressure to high for 5 minutes. When the time is up, allow the Ninja Foodi to natural release for 5 minutes and then manually release the remaining pressure.
Turn on sear/sauté on high and add 14 ounces of sweetened condensed milk, ½ cup of golden raisins and 1 lightly beaten egg. Stir frequently so the egg cooks into the pudding and creates the custard, but does not begin look like a scrambled egg. While that won't ruin your pudding, it won't look that great. This takes about 5 minutes. You will see the pudding begin to thicken. If the pudding is sticking too much to the bottom, turn the heat down a notch to med high or even medium.
Add ¼ cup to ½ cup of half & half to rice pudding depending on the creaminess you like. Stir and turn the Ninja Foodi off.
Stir in the vanilla.
Serve & Enjoy!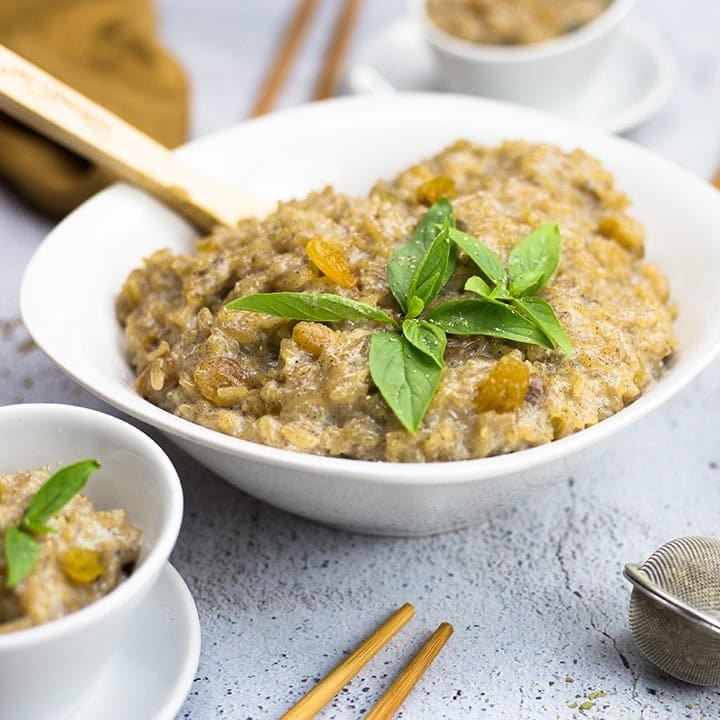 Jasmine Rice Pudding ~ Ninja Foodi/Pressure Cooker Recipe
Jasmine Rice Pudding is one of those simple, yet sophisticated desserts that you can whip up in no time!


Print Recipe
Pin Recipe
Ingredients
1

cup

Rice

Jasmine or White Rice

1 ½

cups

Jasmine Tea

brewed

½

teaspoon

Cinnamon

¼

teaspoon

Nutmeg

⅛

tsp

sea salt

2

teaspoon

Cardamom

14

ounces

Sweetened Condensed Milk

½

cup

raisins

I used golden

1

egg

lightly beaten

½

cup

half and half

or heavy whipping cream

1

teaspoon

vanilla extract
Instructions
Brew 1 ½ cups of Jasmine tea. See post for various ways to brew the tea. Put the 1 ½ cups of jasmine tea into the inner pot of the Ninja Foodi.

Add 1 cup of jasmine or white rice that has been rinsed to the inner pot.

Add seasonings; ½ teaspoon cinnamon, ¼ teaspoon nutmeg, ⅛ teaspoon sea salt, and 2 teaspoon of cardamom.

Stir and put the pressure lid on. Make sure the valve is to seal. Set on high pressure for 5 minutes. Allow the Ninja Foodi to natural release for 5 minutes and then manually release the remaining pressure. Remove the lid.

Turn the sear saute on high and add the sweetened condensed milk, 1 lightly beaten egg, and ½ cup of golden raisins. Stir frequently for about 5 minutes.

Add in ¼ to ½ cup of half and half or heavy cream until the Jasmine Pudding is the consistency you like. Turn the Ninja Foodi off.

Add vanilla extract, stir. Serve and Enjoy!
Nutrition
Serving:
0.25
cup
Calories:
241
kcal
Carbohydrates:
43
g
Protein:
6
g
Fat:
5
g
Saturated Fat:
3
g
Cholesterol:
34
mg
Sodium:
94
mg
Potassium:
255
mg
Fiber:
1
g
Sugar:
22
g
Vitamin A:
175
IU
Vitamin C:
1.7
mg
Calcium:
138
mg
Iron:
0.5
mg
ABOUT THE RECIPE AUTHOR, LOUISE LONG
Louise is a full-time recipe creator and food blogger @ The Salted Pepper. She has over 30 years of experience with cooking and recipe development. She owned a restaurant for several years and was a full-time RN until retiring to blog full-time.
Louise has several very active Facebook groups that help people with the basics of cooking and getting the most out of the Ninja Foodi.
Ninja Foodi Fresh & Healthy Meals
Seeing the need for easy, delicious, and high quality recipes, she is focusing all of her efforts at this time creating recipes specifically for the Ninja Foodi. Her recipes are easy for the home cook to follow and provide step-by-step instructions.
Louise is also a YouTube creator and you can find most of her recipes in video format on The Salted Pepper YouTube channel.
She is very responsive to messages and eager to help in any way she can.
I WOULD LOVE TO SEE WHAT YOU ARE COOKING UP IN YOUR NINJA FOODI! TAG ME @THESALTEDPEPPER ON YOUR FAVORITE SOCIAL MEDIA PLATFORM WHEN YOU MAKE A DISH!
BE SURE TO FOLLOW THE SALTED PEPPER RIGHT HERE ⇓⇓⇓⇓⇓