There is nothing more refreshing than a freshly made strawberry daiquiri, especially when you can make one right at home!
The Ninja Foodi Cold & Hot Blender makes it super easy to whip up your favorite frozen drinks and they are as smooth as you would get from a frozen drink machine!
This post may contain affiliate links. If you make a purchase after clicking a link, I may earn a small commission. As an Amazon Associate, I earn from qualifying purchases.
While you can make this recipe in any blender that is capable of finely crushing frozen fruit or ice, I have never had a blender as versatile and powerful as the Ninja Foodi Cold & Hot Blender!
I love it so much that I have created many recipes from sauces, soups, ice creams to cocktails!
While Jeff loves anything strawberry, my heart lies with coconut and this Piña Colada recipe is one of my favorites!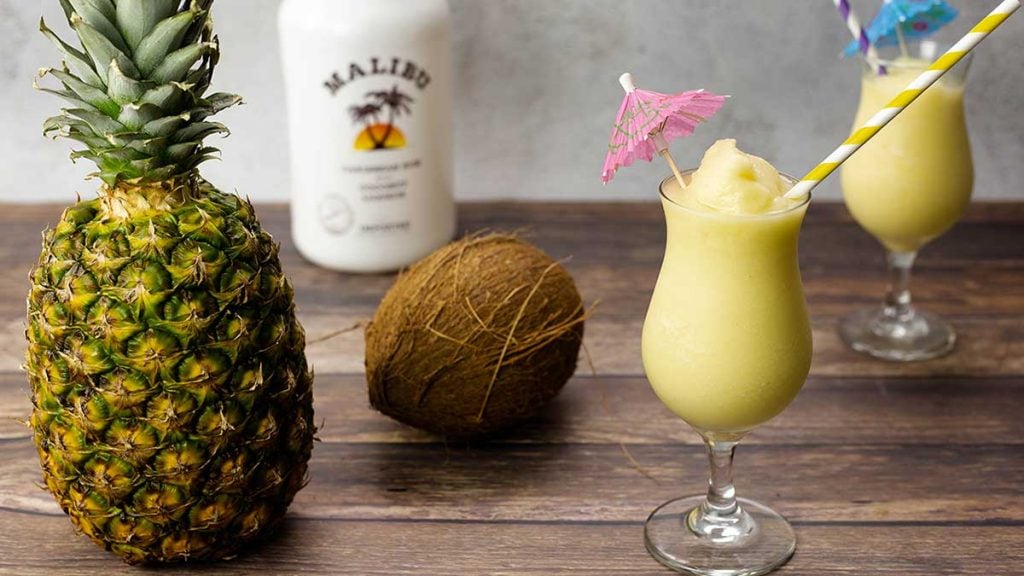 If you don't have the Ninja Foodi Cold & Hot Blender, or you do and want to learn more about the functions, be sure to check out this guide.
Frequently Asked Questions
Can I use Fresh Strawberries instead of frozen?

Yes, but you would want to also add some ice to get that smooth frozen drink that a frozen daiquiri is all about. I haven't tried this recipe with fresh strawberries, but I would try 1-2 cups of ice for 2 cups of strawberries. You can always start off with less and add more if needed to get the consistency you want.
Can I leave out the alcohol?

Absolutely! You will need some liquid to get everything blended up smooth, so I would add about ¼ - ½ cup of water. You could also use a different liquid, like apple juice, if you want to switch up the flavor some.
Can I make this with a different blender?

Of course! As long as your blender has the ability to crush ice to a smooth consistency, you can make this Strawberry Daiquiri the same way in your blender.
What is a Daiquiri?
A daiquiri is a simple cocktail that is made up of rum, simple syrup, and lime juice. That's it! A classic daiquiri is served over the rocks (ice).
Like all great things, the daiquiri has evolved over time and there are numerous variations of the classic daiquiri.
The one thing that is constant in a Daiquiri is the use of lime juice. This is something I learned while creating the recipe. I had no idea because I had never had a classic version and the frozen strawberry daiquiris I've had never tasted like they had lime in them!
You can make tons of different versions of non-frozen or frozen daiquiris by adding fruit or other ingredients to the base of rum, simple syrup, and lime juice.
A simple syrup is simply sugar and water heated to form a sweet syrupy liquid. I skip that part in this recipe because adding just a touch of sugar is all we needed and it's easy peasy!
Can I Make the Strawberry Daiquiri Mix ahead of time?
Yes, you can do this a couple of different ways.
If you just want the mix and no alcohol in it, I would make a simple syrup of sugar and water. So, for 2 cups of frozen strawberries, I would add ¼ cup of water and ¼ cup of sugar.
Heat the sugar and water until dissolved. Add in the strawberries and blend until smooth. Then freeze in a plastic freezer bag or ice cube trays.
When you are ready to make your strawberry daiquiris, simply add the mix to the blender, add in rum and blend.
If you wanted to have the whole thing ready to go with alcohol in it. Simply make the recipe as written and freeze in ice cube trays or in a plastic freezer bag. You can even freeze the mix in cube trays and then transfer to a freezer bag for easier storage.
When you are ready to mix up your drink, add it to the blender with about ½ cup of ice and blend until smooth.
The alcohol should prevent the mix from freezing solid, but if it is too hard to get out of the bag and into the blender, just let it sit out for a few minutes until it's soft enough to work with.
What Variations can I Make?
The possibilities are endless! Get creative and add in the ingredients you love.
I've added a banana for a frozen strawberry banana drink that was amazing.
You could add mixed berries instead of just strawberries.
Frozen mango would be great!
Or, if you wanted to skip the fruit all together and make a frozen classic daiquiri, simply replace the frozen strawberries with 2 cups of ice and I would increase the lime juice to ¼ cup and you might want to increase the sugar a bit so it isn't too sour.
So, what flavor are you going to make? Let me know in the comments!
How to Make Frozen Strawberry Daiquiris in the Ninja Foodi Cold & Hot Blender
This is one of those recipes that is so easy, a picture tells the story. Simply add the ingredients in the order they are listed and press the frozen drink button.
Then pour and serve! This recipe makes about 24 ounces, but you can easily double it!
Frozen Strawberry Daiquiris
Homemade Strawberry Daiquiris that are as smooth as silk!
Print Recipe
Pin Recipe
Equipment
Ninja Foodi Cold and Hot Blender
Ingredients
2

cups

strawberries

frozen

½

cup

rum

¼

cup

sugar

2

tablespoon

lime juice
Instructions
Add the ingredients in the order they are listed and select the frozen drink function on the Cold & Hot Blender.
Notes
I used a banana rum in my strawberry daiquiri, but any light rum will work great. If you don't like rum, try it with vodka!
Nutrition
Serving:
6
ounces
Calories:
143
kcal
Carbohydrates:
19
g
Protein:
1
g
Fat:
1
g
Saturated Fat:
1
g
Sodium:
1
mg
Potassium:
110
mg
Fiber:
1
g
Sugar:
16
g
Vitamin C:
45
mg
Calcium:
12
mg
Iron:
1
mg
ABOUT THE RECIPE AUTHOR, LOUISE LONG
Louise is a full-time recipe creator and food blogger @ The Salted Pepper. She has over 30 years of experience with cooking and recipe development. She owned a restaurant for several years and was a full-time RN until retiring to blog full-time.
She published her first cookbook in the Fall of 2018 and is very interested in writing several more.
Louise is also the creator of an online Ninja Foodi Pressure Cooking Course with over 100 instructional step-by-step videos. People absolutely rave about the course and all the value they have received from it.
Louise has several very active Facebook groups that help people with the basics of cooking and getting the most out of the Ninja Foodi.
Louise is also a YouTube creator and you can find most of her recipes in video format on The Salted Pepper YouTube channel.
She is very responsive to messages and eager to help in any way she can. Get more Information about Louise & contact information
I WOULD LOVE TO SEE WHAT YOU ARE COOKING UP IN YOUR KITCHEN! TAG ME @THESALTEDPEPPER ON YOUR FAVORITE SOCIAL MEDIA PLATFORM WHEN YOU MAKE A DISH!
BE SURE TO FOLLOW THE SALTED PEPPER RIGHT HERE ⇓⇓⇓⇓⇓