Air Fryer Croutons are so easy to make and a great way to eliminate food waste by using up bread ends or bread that is stale.
You can use any kind of bread when making homemade croutons, including, sandwich bread, leftover baguettes, French bread, Italian bread and even rye or pumpernickel. I love to mix my bread types when making croutons for the most flavorful air fryer homemade croutons.
You only need a few ingredients and about 20 minutes to make a batch of homemade croutons and using your air fryer is so much easier than making them in a pan on the stove.
Frequently Asked Questions
Do Croutons Go Bad?
Yes, they can go bad if stored incorrectly. When stored correctly, they will last up to two weeks. Make sure they are completely cooled before storing them in an airtight container or sealed bag. It is best to store them in a cool, dry place.
Can You Freeze Homemade Croutons?
Absolutely! In fact that is a great way to extend their shelf life. Make sure they are completely cooled before placing in a freezer bag or container. If they are still warm, they can create steam which, when cooled, will turn to liquid and create ice crystals on your homemade croutons.
Are Croutons Dairy Free?
Most store-bought croutons contain some kind of dairy, such as cheese or another milk derivative and are not dairy-free. However, you can absolutely make your own homemade croutons and keep them dairy-free by using oil instead of butter.
Ways to Use Homemade Air Fryer Croutons
The obvious use is to top salads, but there are also many other uses for air fryer croutons.
I recently used these air fryer croutons in my Caesar Pasta Salad recipe and they added the perfect crunch and texture to a delicious and EASY pasta salad.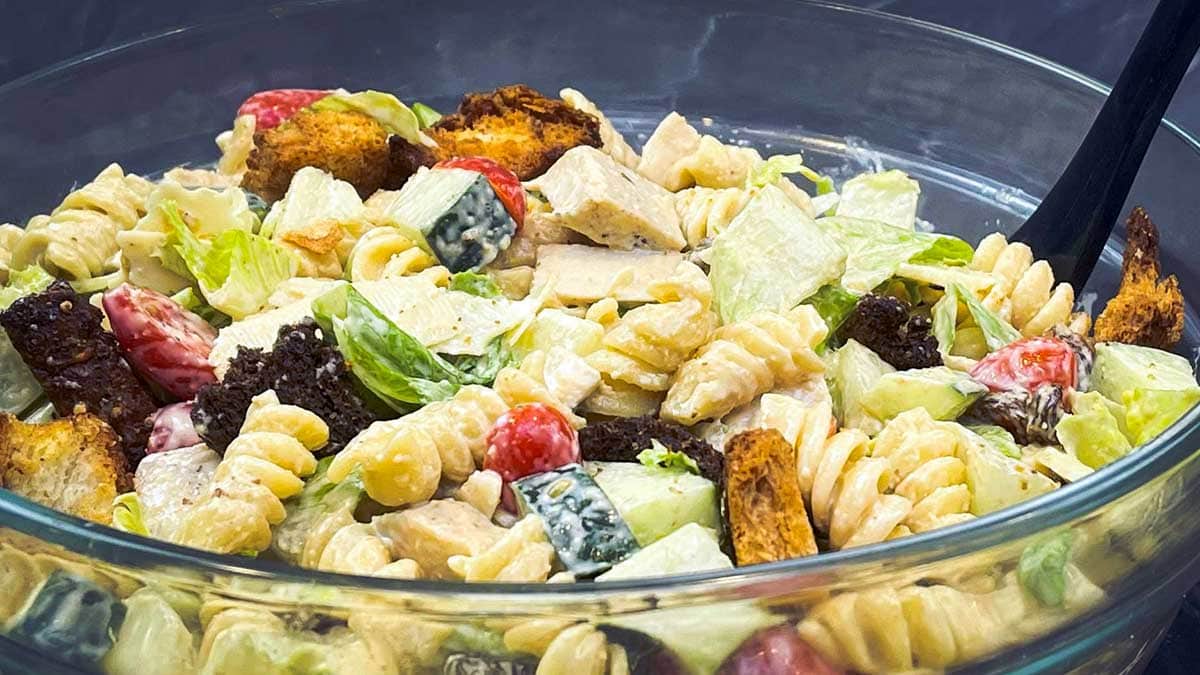 If you want to make the BEST homemade dressing, here is my recipe for Caesar Dressing that is ready in minutes!
Homemade Caesar Dressing Recipe
Another way to use homemade croutons is to top a bowl of delicious soup! Try them in tomato soup or a french onion soup!
Use them to make the most delicious stuffing!
You can also put them through a food processor and make a delicious and already seasoned bread crumbs to use in your favorite air fryer recipes. Here are a few recipes that would work great with these croutons turned into bread crumbs.
Ingredients & Substitutions
Bread
The best croutons are made from bread that you like, so use anything you have on hand! This includes leftover hot dog or hamburger buns. Brioche buns or bread make wonderful croutons.
Crusty bread ends are also a great choice. You can even use regular sandwich bread, whole grain bread, or leftover dinner rolls. Sourdough bread makes delicious homemade croutons!
I like to use a combination of bread when making homemade croutons like rye, pumpernickel, brioche, and crusty Italian or French bread.
Butter & Oil
I used butter and a little oil in this recipe, but you can use all oil, all butter, or even leftover bacon grease, if you prefer. You do need some kind of fat for the flavor, but you can always reduce the amount, if you like. Keep in mind, the seasonings won't stick to the bread unless added with some sort of oil or fat.
You can toss the bread cubes in the seasoned butter like I did or simply use your oil spritzer to spritz the cubes and then sprinkle on the seasoning you want to use. You can use any kind of oil that you like. Olive oil will impart its own flavor, so if you want the butter and seasonings to stand out, you might want to use avocado oil which is neutral in flavor.
Seasonings
You can use any kind of seasoning you like or none at all. I chose to keep it simple and use garlic powder, onion powder, and fine grind sea salt. However, some other great choices would be basil, Italian seasoning, BBQ seasonings, or even some chipotle or cayenne pepper if you wanted a spicy crouton.
I recommend using all dry spices when making your crouton recipe because fresh herbs and even fresh garlic will burn during the air frying process and won't give you the best results. Parmesan cheese would be another great choice and this is probably the one and only time that I suggest using the powdered parmesan that you can buy at the grocery store.
Can I Make Homemade Croutons without an Air Fryer?
Of course! There are several ways to make homemade croutons. You can make them stovetop with frying pan over medium high heat and place a single layer of seasoned and oiled bread cubes in the pan and heat them until they begin to crisp and dry out. I've done this many times, but it is time-consuming because you can only do small batches at a time.
You can also use a toaster oven. Simply toss the bread cubes in butter or oil with the seasonings and place them on sheet pan in a single layer. I would set the temperature of the toaster oven to about 350°F/175°C and cook them until they are crunchy and dry. Make sure to flip them a few times during the cooking process for even browning. Because a toaster oven does not typically have a fan circulating the heat, you will need a lower temperature and a longer cook time to get the bread cubes to be dry on the inside and crunchy on the outside.
Another option is the oven. Once you cube and season (with some kind of fat and spices) the cubes of bread, place them on a baking pan or sheet pan in a single layer and place them in a preheated oven at 300°F and let them cook, flipping them a few times, until they are crunchy and dry. If you have a convection oven, you can increase the temperature to 350°F because the fan will help them dry out and you can cook them a little quicker at a higher temperature.
Differences in Temperatures & Times Based on Air Fryer Type
I tested this recipe in the Ninja Foodi Pressure Cooker & Air Crisper, but you can make it in any air fryer. Some air fryers may require slight temperature and time adjustments and here are my recommendations based on the different style air fryers I've used.
Basket Style Air Fryers
In my experience, the Ninja Foodi Basket Style air fryers will work with the same temperature and timing, but that could depend on how powerful your air fryer is. I suggest starting out with the temperatures that I have in the recipe, but if after 4-6 minutes, your bread is not starting to crisp up, increase the temperature. The idea is to crisp the outside of the bread slowly enough that the inside also has time to dry out. You should expect to see some darkening of the bread cubes after about 8-10 minutes of air frying. If yours are getting dark too quickly, lower the temperature. Also make sure to toss the croutons every 3 minutes or so for even cooking.
Oven style Air Fryers
I have used the Ninja Foodi XL air fryer oven and I think this would be the same as the Vortex air fryer oven, where the temperature needs to be increased by 25-50 degrees for the best results. Each oven Air Fryer may cook a little differently, so the best thing to do when making a recipe for the first time is to watch how it is cooking and adjust your time and temperature as needed.
Ninja Foodi Indoor Grill
The air fryer function on the indoor grill works just about the same as the Ninja Foodi PC & AC, so I would use the same temperature and times, but your croutons might take less time to finish air crisping.
How to Make Air Fryer Croutons
The prep is super easy, so before you get started, preheat your air fryer on the hottest setting. For the Ninja Foodi Pressure Cooker & Air Crisper that is broil/grill and I preheat a full 10 minutes with the crisping basket inside. If you don't have a crisping basket, you can use the crisping plate or even just the inner pot (this might take longer).
While your air fryer is preheating, cube your bread. You can do this by either pulling off small chunks of bread, which works great for fresh bread. Or, if your bread is a little stale and hard, use a serrated knife to cut it into cubes.
Personally, I like to do a combination of irregular cubes and cut cubes, but either way is fine. If you want small croutons, cut or tear your bread into smaller cubes. Keep in mind that they will shrink a little bit when air crisping and if you do use smaller cubes, you may not need to cook them as long. I am not too particular about the size, but on average, I cut the bread into 1½ inch cubes.
Place your bread cubes in a clean plastic bag or in a large bowl. Melt the butter and let cool slightly. Add the seasonings to the melted butter. Mix well. Since the dry seasonings often fall to the bottom of the butter, I use a small canning jar with a lid to shake it all up just before pouring over the bread cubes. If you are using a plastic bag like I did, make sure your butter isn't too hot where it could melt the bag. Pour the butter and seasonings over the croutons and shake the bag really well to evenly coat the bread cubes. In a bowl, I suggestion pouring ⅓ of the butter/seasoning mixture over the bread and then tossing and repeat this until you have used all the butter/seasoning mix.
When the preheat is done, put the bread cubes in the air fryer basket and use the air fry or air crisp function on 375°F and set the time for 20 minutes. Let them cook for about 4 minutes. Spritz with oil if needed and toss with tongs and close the lid, continue to air fry for another 3 minutes, spritz with oil and toss again. Continue to do this until the croutons are cooked to your liking. If you want them harder, but they are getting too brown on the outside, lower the temperature and cook longer. You can also give them a taste for seasonings after about 7 minutes of cooking and if they need more seasoning, spritz with oil and sprinkle extra seasonings over the croutons.
The homemade croutons will take anywhere from 13-17 minutes to air fry. If you like extra crunchy croutons, lower the heat and cook longer.
Once they are done to your liking, place the croutons on a cooling rack to cool. This will help prevent them from steaming if placed on a solid surface like a plate or even a baking tray. Once cooled, they can be put into an airtight container or in a sealable plastic bag.
Top your favorite salad with these delicious air fryer croutons!
Air Fryer Croutons
Deliciously simple way to make homemade croutons out of leftover bread!
Print Recipe
Pin Recipe
Ingredients
10

cups

cubed bread

any kind is fine

8

Tablespoons

salted butter

1

teaspoon

fine grind sea salt

1

teaspoon

garlic powder

1

teaspoon

onion powder

oil for spritzing

optional
Instructions
Preheat your air fryer on the hottest setting with the basket or cooking surface inside during the preheat. Cube up bread into the size croutons you want.

Melt the butter and let cool slightly. Mix the butter and seasonings in a small container or jar. Place the bread cubes in a large bag or bowl. Pour the butter mixture over the top and toss to coat the bread crumbs.

Place the seasoned bread cubes into the basket of the air fryer and select 375°F/190°C for 20 minutes. Toss and spritz with oil every 3-5 minutes until the croutons are done to your likely.

Place croutons on a cooling rack to cool.
Notes
Nutritional values are provided as a courtesy and thesaltedpepper.com makes no guarantees of accuracy. We do our best to ensure they are accurate, but many factors influence nutritional values that are beyond our control. Different brands of items have different nutritional values, so it is always best to do your own independent nutritional analysis based on the items you are using in a recipe if you require a high level of accuracy. Thesaltedpepper.com will not be held accountable for any errors in the displayed nutritional information.
Nutrition
Serving:
0.25
cup
Calories:
106
kcal
Carbohydrates:
12
g
Protein:
3
g
Fat:
5
g
Saturated Fat:
3
g
Polyunsaturated Fat:
1
g
Monounsaturated Fat:
1
g
Trans Fat:
1
g
Cholesterol:
12
mg
Sodium:
281
mg
Potassium:
48
mg
Fiber:
1
g
Sugar:
1
g
Vitamin A:
140
IU
Vitamin C:
1
mg
Calcium:
35
mg
Iron:
1
mg
ABOUT THE RECIPE AUTHOR, LOUISE LONG
Louise is a full-time recipe creator and food blogger @ The Salted Pepper. She has over 30 years of experience with cooking and recipe development. She owned a restaurant for several years and was a full-time RN until retiring to blog full-time.
She published her first cookbook in the Fall of 2018 and is very interested in writing several more.
Louise is also the creator of an online Ninja Foodi Pressure Cooking Course with over 100 instructional step-by-step videos. People absolutely rave about the course and all the value they have received from it.
Louise has several very active Facebook groups that help people with the basics of cooking and getting the most out of the Ninja Foodi.
Louise is also a YouTube creator and you can find most of her recipes in video format on The Salted Pepper YouTube channel.
She is very responsive to messages and eager to help in any way she can. Get more Information about Louise & contact information
I WOULD LOVE TO SEE WHAT YOU ARE COOKING UP IN YOUR KITCHEN! TAG ME @THESALTEDPEPPER ON YOUR FAVORITE SOCIAL MEDIA PLATFORM WHEN YOU MAKE A DISH!
BE SURE TO FOLLOW THE SALTED PEPPER RIGHT HERE ⇓⇓⇓⇓⇓