Have you heard of Banana Jam? I hadn't. I was on a jelly/jam making kick and had some bananas and thought, what the hey... let's give this a whirl. It's simply delicious! One of the BEST jams/jellies/preserves I've ever had.
When I told Jeff I made banana jam, he had never heard of it, either. For a split second, I thought I might have created a new thing! Of course, one Google search and I found several recipes for banana jam!
This post may contain affiliate links. If you make a purchase after clicking a link, I may earn a small commission. As an Amazon Associate, I earn from qualifying purchases.
I wonder why I had never heard of it before? It should be WAY more popular because it's one of the best things I've ever tasted!
I love making jams, jellies, and preserves. They are easy to make at home. Even if you aren't a fan of bananas, you might love one of these other recipes.
Frequently Asked Questions
Can I use unripe bananas in this recipe?

You can and I'm sure it would work, but you will not get the intense flavor like you do with the ripe to overripe bananas. The best bananas to use in this recipe are the ones that are, at the very least, spotted, but the darker the better. My bananas could have even been darker, but they worked fine.

Can I use frozen bananas that are overripe?

Yes, absolutely! I always freeze really dark bananas for making banana bread and now I'm excited to have something else I can make with them! Frozen bananas are more liquidy than unfrozen, so I would decrease the water to ¼ cup.
Can I make banana jam without a thermometer?

Yes, you can. I will go over in the article what to look for and how to tell if your jam will set when you don't have a thermometer. You can also watch the video I did so you can see exactly how yours should look when it is ready to be jarred up.
Can I can Banana Jam?

This is not an approved canning recipe, so I suggest either freezing it or keeping it in jars in the refrigerator. It will last a very long time in the freezer or fridge.
What can I Make with Banana Jam?
Banana Jam is delicious on an English muffin or toast. You could make a peanut butter and banana sandwich.
Pretty much anything you would put any other kind of jam on. Mixing it in with some homemade yogurt or top vanilla ice cream with it!
Jeff and I used it to make Elvis burgers and it was incredible! Simply make up your burger, toast the bun. Slather it with peanut butter and the banana jam. You can thank me later!
Do I Have to use Pectin in this Banana Jam Recipe?
Although bananas have pectin in them, from what I've read, the riper the banana the less pectin it has. Since we want to use overripe bananas, I recommend using pectin to help it set up.
However, if you don't have any and want to give the banana jam a try, I certainly would. The worst case scenario is you have a banana sauce and I can think of tons of things to do with banana sauce!
To make this recipe without pectin, add the bananas, lemon juice, sugar, water to the pot and heat over medium-high to high heat. Stir occasionally so the mixture doesn't scorch and cook for about 10-15 minutes.
If you have a thermometer, take the banana mixture up to 220℉/104℃. Then turn off the heat and stir until it is no longer boiling. Add in the vanilla and cardamom if using. Let cool for a few minutes and ladle into jars.
If you don't have a thermometer, then watch the bubbles. They start out larger and more spread out. As the mixture heats up more, the bubbles get much closer together and when you stir, the mixture will continue to boil. This is the sign that you have reached a good temp.
To test your banana jam, put a plate in the freezer BEFORE you start making the jam. When you are done, put a teaspoon or two on the plate and let it sit there for a few minutes. Take your spoon and swipe through the jam. If it runs back together quickly, you have not cooked it long enough and it probably won't set up. If it stays apart, it should set up nicely.
Can I use Less Sugar or use a Sugar Substitute?
Yes, but I'm afraid I can't give exact directions because I haven't had time to try it, yet. I bought some low-sugar pectin a while ago, but I haven't used it.
I will update the post when my bananas ripen because that's what I'm going to test out the low sugar pectin with!
In the meantime, there are a couple of ways I would approach making this banana jam with less sugar or no sugar.
I would increase the amount of bananas to 5 or 6. The reason for this is because the sugar helps create the volume of jam and without it, you might get 1 jar of banana jam. If that's okay, then stick with 4 bananas.
What I don't know is if replacing the regular pectin with low-sugar pectin is a simple 1:1 swap. I'm going to try it that way and, like I said, I'll update the post in a few days when I have more answers.
My plan is to omit all the sugar and only use 1 cup of Swerve in my low sugar batch. I have zero idea how it will work, but I'll keep you posted!
The other thing to keep in mind is that sugar is a preservative, so omitting it from the recipe can lead to a darker jam and it might not last as long in the fridge.
Can I use Liquid Pectin instead of Dry Pectin?
Yes, absolutely! I'm not a huge fan of liquid pectin because I think it's expensive compared to the dry kind.
The formula for using liquid pectin instead of dry is for every 2 Tbsps of powdered pectin, use one pouch of liquid pectin. So, in this recipe I call for 1 Tbsp of powdered pectin, so you would use ½ a pouch.
The other difference is when you add it in. With dry pectin, you add it in in the beginning and with liquid pectin, you add it in at the end.
So, you would combine the bananas, sugar, lemon juice, and water. Bring that to a boil that can't be stirred down and get the mixture close to 220℉/104℃. Then add in the liquid pectin and bring the mixture back up to a boil that can't be stirred down.
Then let the mixture cool a little bit and put into your jars or whatever container you want to store the jam in.
How to do the Plate Test to check if Jam will set well
There is nothing worse than, after spending the time making jam, jelly, or preserves, waiting for it to set up and it never does. Keep in mind that sometimes this can take days, and I've even read weeks, for a jam to set completely, but usually a good 8 hours in the fridge does the trick for 4 ounce or 8 ounce jars.
If you just want to be sure you cooked to high enough temperature, you can do the plate taste and it's simple.
Freeze a small plate before you start making the jam. You want the plate to be really cold. Usually 30-60 minutes in the freezer does the trick.
When you think the jam has cooked long enough, put a teaspoon or two on the plate and let it sit there for several minutes. Then take your finger or the back of a spoon and swipe right through the center. If the jam, jelly, or preserves stays apart, you are good to go. If it runs back together quickly, it's a little too thin and won't set up well.
How to make Banana Jam
I use the Ninja Foodi Pressure Cooker & Air Crisper to make my jams, jellies, and preserves because I love how regulated the temperature is and the pot is nice and deep. You can use the Ninja Foodi, Instant Pot with sear/sauté, or a pot on the stove.
Add the bananas (peel them first), lemon juice (bottled or freshly squeezed is fine), water, and pectin to the pot. Turn the heat on high and mash up the bananas.
You can also use a blender to blend everything up before you add it to the pot, but I found this handy tool worked great! I used a Mix 'N Masher from Pampered Chef. It works great for applesauce, mashed potatoes, and of course banana jam!
The mixture should be heating up while you mash up the bananas and continue to let it heat until it starts to boil. Stir occasionally to prevent any scorching.
You will see the bubbles start out large and far apart and as it continues to get hotter, the bubbles will be smaller and close together.
After the bubbles get close together and smaller, give a stir and if the mixture remains boiling during the stirring process you are good to go.
Next add in the sugar and stir. This will cool everything down and the boiling will slow down. Stir occasionally and bring the mixture back up to a boil that can't be stirred down.
I usually use my Instant Read thermometer to make sure I get the mixture up to 220℉/104℃, but you don't have to have a thermometer. Once the mixture continues to boil despite stirring and the bubbles are small and close together, you should be just fine.
If you want to double check that your banana jam will set up, you can do the plate test described above.
Turn the heat off and stir while the mixture cools slightly. When it is no longer boiling, add in the vanilla extract and the cardamom spice and stir to combine. The cardamom gives an incredible flavor to this banana jam, but you can also use cinnamon or don't add any spice and the jam is going to be delicious.
Once the banana jam cools down a bit, ladle it into jars or whatever containers you want to store it in. Keep in mind, the deeper the container, the longer it is going to take to cool completely.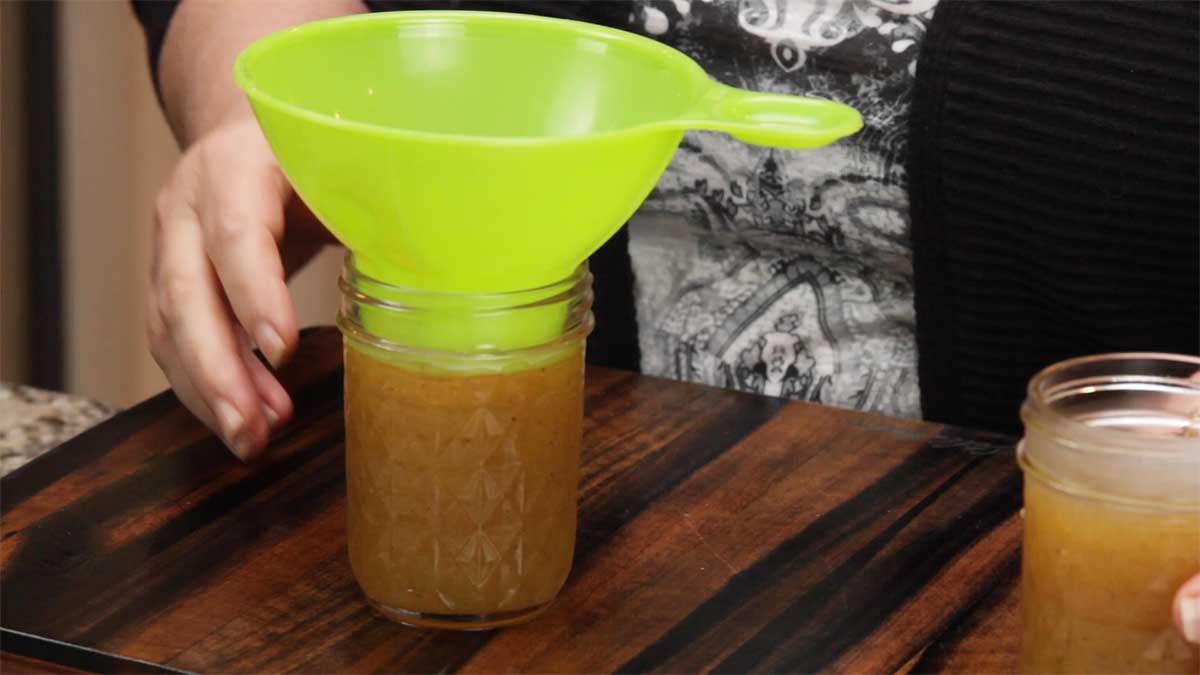 Put the jam in the refrigerator for at least 4 hours to chill. I usually leave it in overnight and enjoy it the next morning.
Serve & Enjoy!
Banana Jam
Use up your overripe bananas by whipping up a batch of banana jam in about 15 minutes.
Print Recipe
Pin Recipe
Ingredients
4

bananas

the riper the better

2

Tbsp

lemon juice

½

cup

water

1

Tbsp

powdered pectin

2

cups

sugar

1

tsp

vanilla extract

½

tsp

cardamom

optional
Instructions
In a large pot or the Ninja Foodi inner pot, add the peeled bananas, lemon juice, water, and powdered pectin. Turn the heat on high and cook while mashing the bananas. You could also blend the ingredients in a blender and then pour into the pot.

Bring the mixture to a boil that cannot be stirred down. This takes anywhere from 5-10 minutes. You can adjust your heat down if you are afraid of scorching the mixture. Stir occasionally while boiling.

Once the mixture is boiling and continues to boil as you stir, add in the sugar and stir to combine.

Bring the mixture back to a boil that cannot be stirred down, this can take anywhere from 5-10 minutes. I use a thermometer and when the mixture reaches 220℉/104℃, it's done. See post if you don't have a thermometer.

Turn the heat off and stir until the banana jam is no longer boiling. Add in vanilla and cardamom. Stir to combine. Let the jam cool slightly in the pot.

Transfer to jars or another container that want to store the jam in. Refrigerate for at least 4 hours.
Nutrition
Serving:
1
Tbsp
Calories:
51
kcal
Carbohydrates:
13
g
Protein:
1
g
Fat:
1
g
Saturated Fat:
1
g
Sodium:
1
mg
Potassium:
42
mg
Fiber:
1
g
Sugar:
11
g
Vitamin A:
8
IU
Vitamin C:
1
mg
Calcium:
1
mg
Iron:
1
mg
ABOUT THE RECIPE AUTHOR, LOUISE LONG
Louise is a full-time recipe creator and food blogger @ The Salted Pepper. She has over 30 years of experience with cooking and recipe development. She owned a restaurant for several years and was a full-time RN until retiring to blog full-time.
Louise has several very active Facebook groups that help people with the basics of cooking and getting the most out of the Ninja Foodi.
Ninja Foodi Fresh & Healthy Meals
Seeing the need for easy, delicious, and high quality recipes, she is focusing all of her efforts creating recipes specifically for the Ninja Foodi. Her recipes are easy for the home cook to follow and provide step-by-step instructions.
Louise is also a YouTube creator and you can find most of her recipes in video format on The Salted Pepper YouTube channel.
She is very responsive to messages and eager to help in any way she can.
I WOULD LOVE TO SEE WHAT YOU ARE COOKING UP IN YOUR NINJA FOODI! TAG ME @THESALTEDPEPPER ON YOUR FAVORITE SOCIAL MEDIA PLATFORM WHEN YOU MAKE A DISH!
BE SURE TO FOLLOW THE SALTED PEPPER RIGHT HERE ⇓⇓⇓⇓⇓