Whether you are low carb, low calorie, or trying to eat more veggies, I've got you covered with these delicious & healthy Ninja Foodi Recipes!
Most foods can be healthy when eaten in moderation and I find that little modifications can be made to almost any recipe to put a healthy twist on it.
I am asked all the time for healthy recipes in the Ninja Foodi. What is healthy though? It means different things to different people for sure. I think of healthy as low carb, low fat, and I take calories into consideration.
So, for this article, I decided to pull together my favorite healthy Ninja Foodi Recipes where I made modifications to either lower the carb count, use more vegetables, add in healthy grains, or the calorie count is below 300 calories per serving.
I am working on more recipes that are healthy and I will update the post as they are available.
Low Carb Recipes in the Ninja Foodi
The following recipes have been modified to be a lower carb option. They are not necessarily keto, but most of them can be modified further to meet the criteria for keto.
I do use a little bread crumbs in these meatballs, but you can certainly omit it. My favorite way to eat these meatballs is over a bed of zoodles or spaghetti squash with some homemade marinara sauce. It's the perfect lower carb option when you are craving spaghetti and meatballs!
Arancini Balls are typically made with rice, but in this recipe cauliflower is used and they are delicious!
It is unreal how good this "potato" salad is and it's made with cauliflower! The roasting process really gives the right texture and it tastes like a loaded baked potato in a salad form. Delicious!
I'd love to love salmon because of its health benefits, but I just don't. However, I was shocked at how good these salmon cakes were!
So, even if you aren't a salmon lover, you might want to give them a try! Or use tuna instead and make tuna cakes!
Low Calorie Ninja Foodi Recipes
The following recipes have under 300 calories per serving if it is a component of a meal and under 500 calories per serving if it is a complete meal.
Several are also low carb or plant based.
Asian Chicken Lettuce Wraps
These lettuce wraps are bursting with flavor and they are better than PF Chang's!
Calories per serving: 292
This recipe is full of vegetables and fresh flavors. It is a great way to use up summer veggies!
Calories per serving: 455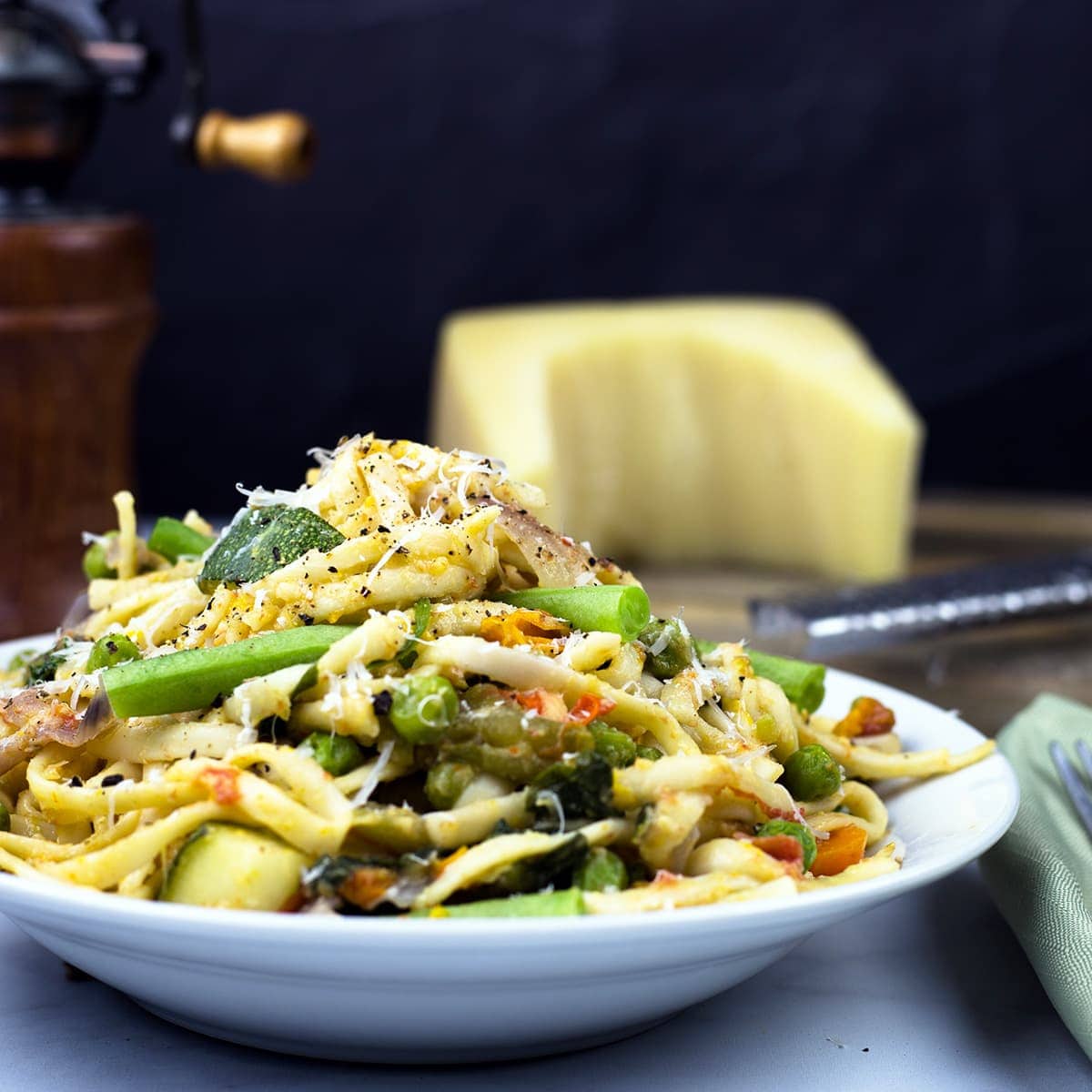 This is one of my favorite meals because it is so quick and easy to make. You can also use shrimp on top!
Calories per serving: 277
This recipe is so delicious, you will never miss all the calories in a traditional alfredo!
Calories per serving: 318
I love the dump and cook recipes where you can add a little of this and a little of that and you have a delicious and healthy meal! This taco soup is just that.
Kitchen Tools that Make Eating Healthy Easier
In my experience, there are two major things that makes eating healthier more sustainable. Have meals planned and made BEFORE you are starving & having the right kitchen tools for the job.
Here are my top kitchen tools that makes healthy meal prep easier.
Healthy Vegetarian Recipes in the Ninja Foodi
Not all vegetarian recipes are healthy, but these are!
This vegetable dish is packed with flavor and super easy to make!
This is one of those recipes that you want to keep in your freezer for those nights you don't feel like cooking! Pressure cook a batch or two and freeze individual servings!
Simple to make, one-pot meal, that makes you forget you are eating healthy because it has so much flavor!