This mango corn salsa recipe is simple to make and absolutely amazing to eat! The combination of ripe mango and fresh corn paired with other fresh ingredients is the perfect balance of sweetness with a hint of heat.
It's wonderful to serve with fish tacos, shrimp tacos, carne picada tacos, or with tortilla chips! As with all recipes, feel free to change the ingredients based on your personal taste. This salsa goes perfectly with fish, chicken, beef, or pork. Although I love this salsa any time of the year, it is the perfect summer salsa with all its vibrant colors.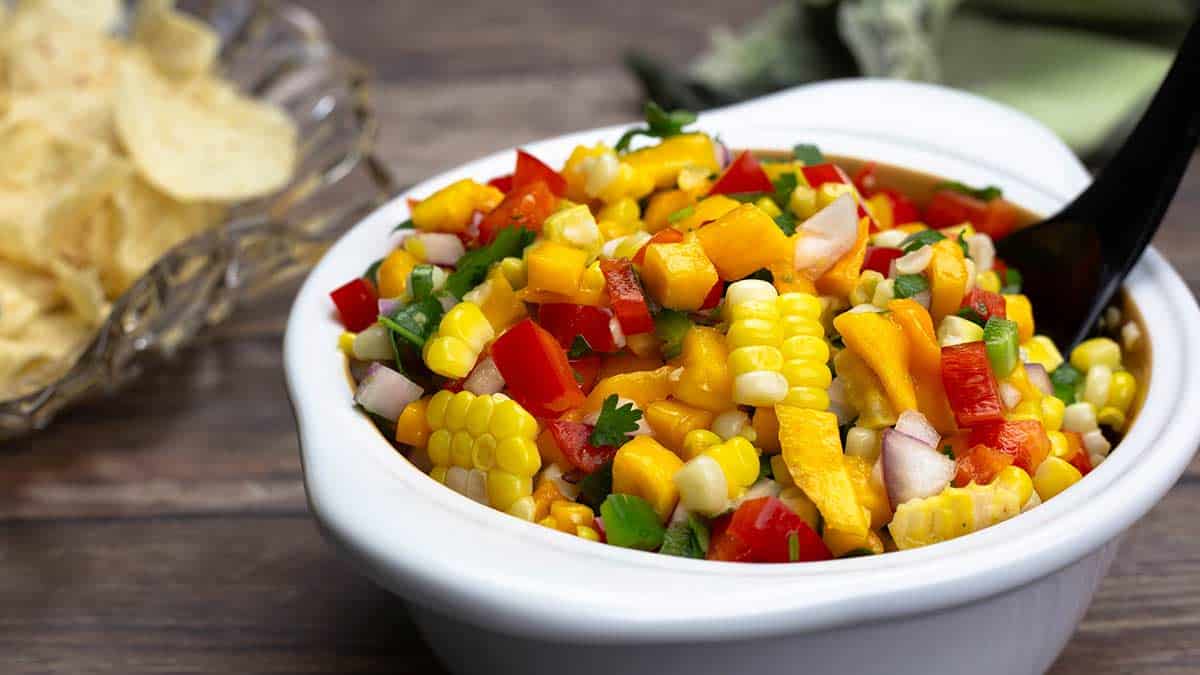 The key to making great salsa of any kind is using fresh ingredients. Feel free to omit ingredients you don't like, and add in ones you love. It's hard to go wrong when making salsa, as long as you have a good ratio of ingredients.
For example, unless you are making an onion salsa, you don't want to have more onions than you have other ingredients. Lead with the main flavors and use more of those ingredients than the supporting ingredients and you will make the perfect salsa for you!
Ingredients & Substitutions
Fruit
Mango is the perfect fruit to add to salsa when you want to add a hint of sweetness. It pairs perfectly with just about everything! The most important thing is to pick ripe mango and don't get too close to the seed when cutting or it can have a very bitter taste.
I recommend using fresh mango in this recipe, but you can substitute a good quality jarred or canned mango if you can't find fresh. You can also thaw frozen mango and dice it up. Some mango can be bitter and taste almost like soap, so be sure to taste the mango before making the salsa because, if you don't like the taste of the mango, you won't like the mango corn salsa.
If you don't like mango, you can absolutely substitute another type of fruit. Pineapple would be a great choice. Blueberries, strawberries, or peaches would also make great substitutions.
Vegetables
The beauty of making salsa is you get to use what you like and omit what you don't. I chose vegetables that would pair with the mango and provide a mix of vibrant colors. Feel free to change things up any way you want. Again, the ratio of ingredients is more important than the vegetable choices. Pick 1 main fruit and 1 main vegetable and make those the stars. In this recipe, it's the mango and the corn.
Corn
I use 2 ears of corn in this recipe which equals about 1 cup of corn kernels. If it's in season, use fresh corn whenever possible for the best flavor. I pressure cook my corn on the cob right in the husks to avoid having to deal with all that silk. It's pretty magical if you ask me. Here is the recipe for the way I prepare my corn: Pressure Cooker Corn on the Cob.
If you can't find fresh corn, you can use frozen or canned. Make sure to completely thaw frozen corn before adding to the salsa so you don't end up with runny salsa. If you are using canned corn, make sure to drain the corn well.
I use the cooked corn kernels that I cut right off the cob when I make the mango corn salsa, but you could grill the corn on the cob and then use the roasted corn kernels to add a different dimension of flavor. Grilled corn mango salsa sounds delicious. Please let me know if you make it that way!
Peppers
I used a red bell pepper to give flavor and that burst of red color to the salsa. I also used a jalapeño pepper that I removed the seeds and pith from before dicing. If you want a spicier mango salsa, add in the seeds. I also recommend you taste a little bit of the jalapeño pepper before deciding on how much to add. They vary quite a bit in spiciness and if yours is really spicy you probably don't want to add the entire pepper to the salsa.
You can use any combination of peppers that you like. If you don't want your salsa spicy at all, substitute green bell pepper for the jalapeño pepper. Or, if you want just a hint of spice, try using an Anaheim pepper which is not as spicy as a jalapeño pepper.
You can use any kind of spicy peppers that you like. Serrano pepper or habanero pepper will be delicious for spicy food lovers!
Onions
It doesn't matter what kind of onion you use in your salsa. I like to use a red onion for the color and flavor of the onion, but yellow onion, sweet onion, or white onions will also work just fine.
You can also omit the onions if you aren't a fan.
Seasonings
Most of the flavor in the salsa comes from the fresh fruit and vegetables, but I do add a touch of fresh cilantro, fresh lime juice and zest, and a bit of salt to finish off the salsa.
If you don't like cilantro, omit it and you can replace it with a little fresh parsley if you want. I would only add about 1 Tablespoon of parsley though, you don't want to overdo it.
You can add a touch of olive oil if you like, but I don't find it necessary
Extras
I don't add tomatoes to this salsa recipe, but you certainly can! I recommend Roma tomatoes because they don't have as much juice and won't make your salsa runny. Try roasting the Roma tomatoes before dicing them for added flavor. Make sure to let them cool completely before adding to the salsa.
You can also add in some drained black beans for added protein.
Always remember, it's your salsa; add what you love and omit what you don't.
How to Pick and Cut a Fresh Mango
I must start off by saying that I was a lucky girl this year and my friend, Sue, sent me fresh mangos off of her tree! Oh my goodness, were they delicious and so easy to cut. Thank you, Sue!
When I did the final test of this recipe, I did have to use store-bought mangos and, while they were very good, I did find them a touch harder to peel. I think the variety of mango plays a big part in this. The mangos that Sue sent me had very thin skin and could be peeled with a vegetable peeler. I also found that the pit was smaller, which made them easier to cut.
No worries, though! Store-bought mangos, no matter the variety, will work just fine. Here are my tips for selecting a ripe mango.
The look: Different mango varieties are different colors so you can't base your selection solely on color. However, all green mangos are usually not ripe. I look for mangos that are turning yellow or completely yellow or have reddish-orange colors. This varies by variety.
The touch: Gently press or squeeze the mango, it should have some give to it when it's ripe. If it is hard, it isn't ripe. You also don't want it to be too soft which indicates it is overripe.
The smell: If you smell the stem of the mango and it smells sweet, you are good to go. If it smells piney, it's probably not ripe yet. If it smells like alcohol, it's starting to become overripe.
If you can't find ripe mangos at your grocery store, you can pick up some that aren't ripe and leave them out on your counter at room temperature until they ripen, which takes anywhere from 1-3 days usually. Some people also put them in a paper bag to speed up the ripening process. I don't usually do that because I forget about them -- out of sight, out of mind!
How to Cut the Mangos
First, you want to find the direction that the pit is growing. The pit of a mango is not round, but more oblong so there is going to be more mango flesh on two sides of the pit than there will be on the other two sides.
Sometimes it can be hard to tell where the mango cheeks (the meaty sides of the mango) are, but if you look at the top of the mango, where it's the widest is usually the direction of the pit.
Once you figure out where to cut the mango, you can decide which method you want to use.
There are so many different ways to cut a mango and, honestly, I haven't found one "perfect" way. Some people cut the sides off the mango and then make vertical and horizontal cuts from the flesh to the skin to make a grid. I find this way takes me longer and the dices are not as clean, but it is easier to handle the mango if the skin is left on before slicing.
Once the slices of mango are cut, you would then cut a grid pattern by making cuts into the flesh, but not through the skin. Then you can run your knife along the cuts and remove the flesh.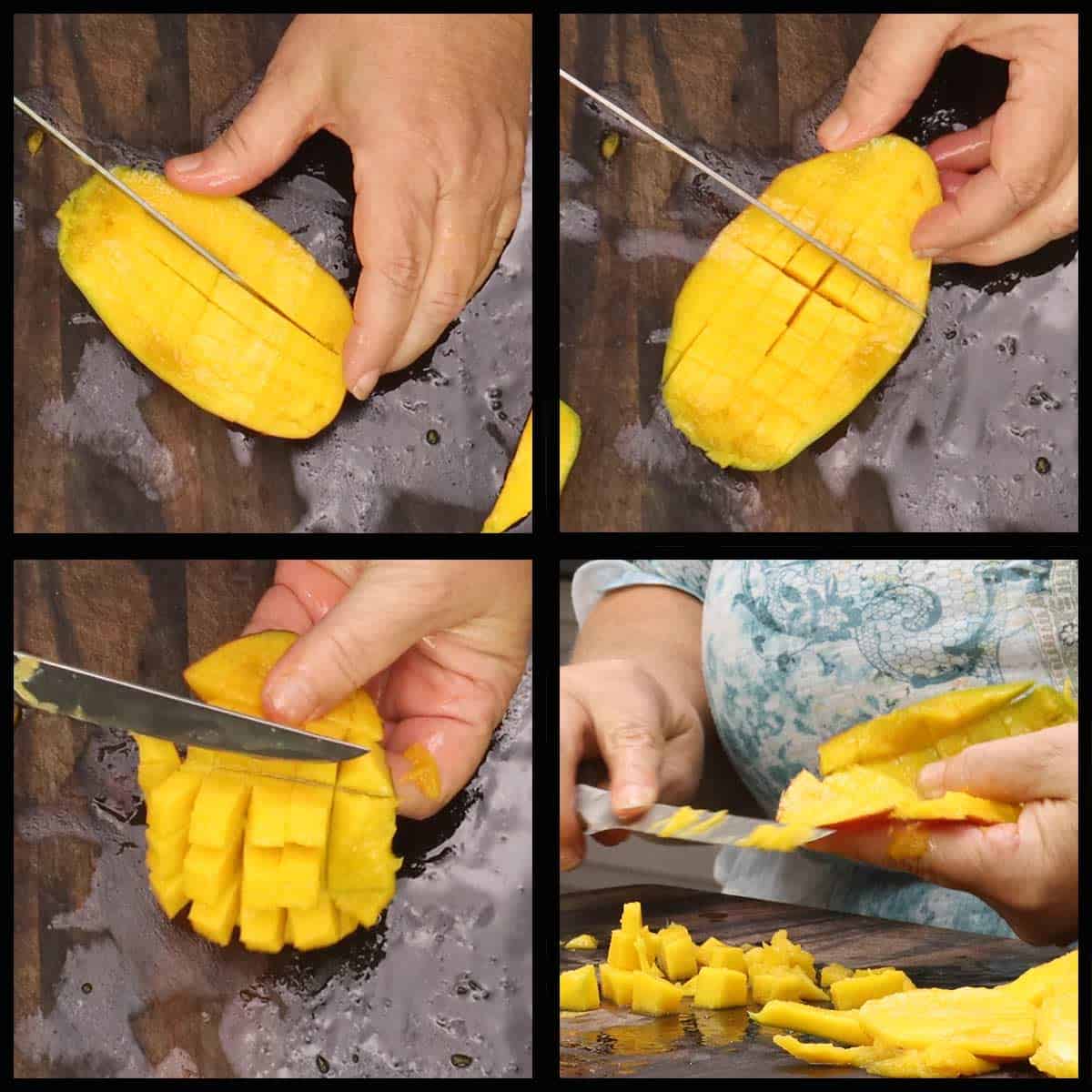 The advantage of cutting the mango using the grid technique is that the skin stays on which makes the mango easier to handle. If you aren't confident with your knife skills, I recommend trying the grid method.
Another way is to cut the sides off of the mango with the skin intact and use a drinking glass to separate the skin from the flesh. Once the mango cheeks are sliced away from the pit, position the mango with the skin on the outside of the glass and the mango meat on the inside and move the mango down the glass so the lip of the glass separates the flesh from the skin. This works well with really ripe mangos.
While the previous two ways work, I have a different way of cutting a mango that works best for me. I will say that because the mango is peeled first, it can be very slippery. Make sure you have control of the knife at all times so you don't cut yourself.
Cut the ends off of the mango so it can sit flat on your cutting board.
Hold the mango and take a sharp knife to peel the skin from one side. I like to use a boning knife and one of the best knife sets I've ever owned is the Ninja Foodi NeverDull Premium Knife Set.
Rotate the mango and peel all the skin off with a knife or if the peel is thin enough, use a vegetable peeler.
Place the mango, cut side down, on the cutting board and cut slices about ½" thick from the mango cheek. Try not to get too close to the pit because the flesh around the pit can be bitter.
Once you have sliced 1-2 slices from each side of the mango, use the knife to cut the mango slices into ¼"-½" dice.
Place the diced mango into a bowl.
How to Make Mango Corn Salsa
You will want a mixing bowl big enough to be able to toss all the ingredients around in the bowl. This recipe makes about 4 cups of salsa, so you will want a bowl that holds at least 6 cups.
Prepping the Vegetables & Fruit
Dice the mango using one of the methods above or your own method. You should have about 1 cup of diced mango. If you have more, don't worry about it. If you have less, you will want to adjust the remaining ingredients accordingly.
Cook the corn if using fresh. I like to pressure cook mine and here is the method I use: Pressure Cooker Corn
Make sure the corn has been chilled after cooking. You want cold corn in your salsa. Cut the kernels off of the cobs either using a sharp knife or a corn cutter and place them in your mixing bowl.
Break the kernels up if they come off in big pieces. You want at least 1 cup of corn. If you have more, no worries. The goal is to have equal amounts of mango and corn, but a little more or less will not affect the mango corn salsa.
Add the diced mango to the bowl.
Dice up the red bell pepper and the red onion into ¼-½" dice and add to the bowl. You want about ¾ cup of red bell pepper and ½ cup of diced red onion.
It is completely up to you if you add jalapeno pepper or not. The salsa is delicious with or without it. It does add a pop of green color which could be substituted by a green bell pepper if spice is a concern.
The amount of jalapeno pepper you use is also up to you. I use 1 medium jalapeno with seeds and pith removed. I also recommend tasting a piece of jalapeno prior to adding it to the mango corn salsa. Jalapenos vary quite a bit in their spiciness and you can determine how much to add by sampling the one you are going to use.
If you like it spicy, throw in the seeds too!
For the final touches, add the zest and juice from 1 fresh lime, some chopped cilantro.
If you don't have fresh lime, you can use some lime juice from the bottle. I use between 2-3 Tablespoons of lime juice. Salt to taste and give everything a stir.
Serve with your favorite tortilla chips or as a taco topping. It's fantastic on Carne Asada Tacos or Carne Picada Tacos!
Frequently Asked Questions
How long will Mango Corn Salsa last?
Store any leftover mango corn salsa in an airtight container in the refrigerator and it will last 3-5 days. The freshness of the fruit and vegetables do affect how long it lasts, so be sure to make the salsa with the freshest ingredients possible.
Can I double or halve the recipe?
Yes, of course! You can make as much or as little salsa as you want, just adjust the ingredients accordingly.


Can you freeze mango salsa?
Mango salsa is best eaten fresh. While it can be frozen, the textures will change when it is thawed. My recommendation is to freeze it in an airtight container and, when thawed, use it as an ingredient in foods that are cooked. For example, you could cook the thawed salsa down some and use it as a sauce for fish or chicken.
Condiments & Sauces
I love making condiments and sauces that compliment various foods like this mango corn salsa compliments chicken, fish, pork, or beef dishes.
Using various condiments and sauces is wonderful for meal planning and prepping because you can cook a whole bunch of chicken and completely change the flavor with a different condiment or sauce.
Here are some easy and delicious condiments & sauces for you to try!
Mango Corn Salsa
Easy & Delicious salsa that pairs perfectly with fish, chicken, pork, and beef. Or, grab some tortilla chips and dig in!
Print Recipe
Pin Recipe
Ingredients
1

cup

diced mango

about ½" dice (2-3 whole mangos)

1

cup

corn

2 ears fresh corn.

1

red bell pepper

diced ½" dice (about ¾ cup)

½

red onion

diced ½" dice (about ½ cup)

1

jalapeño pepper

seeds and pith removed, diced ¼" dice

¼

cup

chopped cilantro

1

lime

zested and juiced (2-3 Tablespoons lime juice)

½

teaspoon

fine grind sea salt or kosher salt
Instructions
If you are using fresh corn, cook it and chill it before removing the kernels from the cob. Peel and dice the mango into ½" dice. Dice the red pepper and onion in ½" dice. Remove the seeds and ptih from the jalapeno and dice into ¼". dice. Chop the cilantro leaves.

Mix the corn, mango, red pepper, onion, jalapeño, and cilantro in a large mixing bowl.

1 cup diced mango,

1 cup corn,

1 red bell pepper,

½ red onion,

1 jalapeño pepper,

¼ cup chopped cilantro

Zest and juice the lime over the bowl of salsa and add the salt. Mix well and taste for seasonings. Add more lime juice or salt if needed.

1 lime,

½ teaspoon fine grind sea salt or kosher salt
Nutrition
Serving:
0.5
cup
Calories:
121
kcal
Carbohydrates:
28
g
Protein:
3
g
Fat:
0.4
g
Saturated Fat:
0.1
g
Polyunsaturated Fat:
0.1
g
Monounsaturated Fat:
0.1
g
Sodium:
147
mg
Potassium:
99
mg
Fiber:
3
g
Sugar:
18
g
Vitamin A:
3686
IU
Vitamin C:
30
mg
Calcium:
22
mg
Iron:
2
mg
ABOUT THE RECIPE AUTHOR, LOUISE LONG
Louise is a full-time recipe creator and food blogger @ The Salted Pepper. She has over 30 years of experience with cooking and recipe development. She owned a restaurant for several years and was a full-time RN until retiring to blog full-time.
She published her first cookbook in the Fall of 2018 and is very interested in writing several more.
Louise is also the creator of an online Ninja Foodi Pressure Cooking Course with over 100 instructional step-by-step videos. People absolutely rave about the course and all the value they have received from it.
Louise has several very active Facebook groups that help people with the basics of cooking and getting the most out of the Ninja Foodi.
Louise is also a YouTube creator and you can find most of her recipes in video format on The Salted Pepper YouTube channel.
She is very responsive to messages and eager to help in any way she can. Get more Information about Louise & contact information
I WOULD LOVE TO SEE WHAT YOU ARE COOKING UP IN YOUR KITCHEN! TAG ME @THESALTEDPEPPER ON YOUR FAVORITE SOCIAL MEDIA PLATFORM WHEN YOU MAKE A DISH!
BE SURE TO FOLLOW THE SALTED PEPPER RIGHT HERE ⇓⇓⇓⇓⇓