Have you struggled to get your cornbread cooked perfectly in the Ninja Foodi? If so, you aren't alone! Pressure cooking cornbread changes the texture and, while that isn't a deal breaker for everyone, sometimes we just want a traditional baked cornbread.
One of the biggest issues is getting the center to cook all the way through before the outside gets overdone or too browned. Many times we use a springform pan that is elevated on the rack, but I have found that it is very difficult to get the cornbread to cook evenly using this method.
Using a bundt pan that essentially has a center heating core, works much better and you can absolutely do it that way! I do recommend covering the bundt pan towards the end of cooking with aluminum foil or a silicone cover to prevent burning.
Frequently Asked Questions
Can I pressure cook cornbread?

Yes, you absolutely can! There is a difference in texture, though, and I would describe it as denser and a little wetter than baked cornbread. I hesitate to call it a moist cornbread because it's not light and fluffy and moist, it's a heavier texture.

I never did perfect a pressure cooker cornbread recipe, but I did create a delicious recipe for corn pudding (corn casserole) that goes perfectly with Thanksgiving dinner! It uses creamed corn and is a super moist and perfect side dish.
Can I use Jiffy Cornbread Mix with this cooking technique?

Yes, I don't see why it wouldn't work. Because of the circumference of the inner pot on the Ninja Foodi, I would probably use 2-3 boxes and prepare them according to the package instructions. The cooking technique, times and temperatures can remain the same.

Keep in mind that the depth of the cornbread mixture determines cooking time, so if you wanted a thicker cornbread (using 4 boxes), you would have to increase the cook time and maybe even lower the temperature towards the end to prevent over browning of the top.
Can I use my own cornbread recipe?

Of course! This inner pot method should work with any type of cornbread recipe as long as it has the same basic ingredients.
Ingredients & Substitutions
Flour/Corn Meal
The ratio of flour-to-cornmeal in a cornbread recipe determines the texture. I used yellow cornmeal in this recipe, but you can use white if you prefer. The more all purpose flour used, the more cake-like the texture.
I played around with the ratios and found that equal parts of flour/cornmeal resulted in a very crumbly cornbread. It was good, but a little dryer than I prefer. However, if you like a crumbly cornbread that has more cornmeal than flour, feel free to increase the cornmeal and decrease the flour.
If you want even more of a cake-like texture, increase the flour and decrease the cornmeal to ¼ cup.
Dairy
I used half and half in this recipe, but you can certainly use regular milk, or buttermilk. The vinegar added to the half and half created a buttermilk substitute. You could also use sour cream or yogurt in place of the half and half.
I also used salted butter and eggs. You can use unsalted butter or even oil if you prefer.
The butter added at the end is completely optional.
Sweeteners & Seasonings
I used a combination of brown sugar and white sugar in this recipe, but you can use all white sugar or all brown sugar or any combination of the two. You can also use a sugar substitute, if you prefer.
The honey is added at the end and optional.
Leaveners
Cornbread is considered a quick bread, like zucchini and banana bread and what that means is it is leavened with baking powder or baking soda and not yeast. I use baking powder in this recipe, but baking soda could be used IF you are also using the vinegar. Baking soda requires an acid to be present to activate, while baking powder has the acid in it already.
Extras
I added sweet corn to this recipe, but that is totally optional. Fee free to leave it out if you don't want corn kernels in your cornbread. You can also add in other vegetables (like bell peppers) or cheddar cheese. If you want a spicier cornbread, try adding diced jalapeño peppers.
Other Cooking Methods for Cornbread Recipe
While I personally think the combination of using sear/sauté and bake/roast on the NInja Foodi is the easiest way to make cornbread in the Ninja Foodi, there are other options.
Pressure Cooking
You can certainly use your electric pressure cooker to pressure cook cornbread, but, like I mentioned earlier in the post, that will result in a different texture. It won't be as light and fluffy as it is when it's cooked using dry heat.
I recommend using a Bundt style pan, even when pressure cooking to get the most even cooking. While it is less important using pressure to cook, I do still find that baked goods can overcook on the edges before being done in the middle.
I usually pressure cook cornbread on high pressure, but you can certainly use low pressure for a longer time, if desired. The time it will take is completely dependent on the size of your pan and how deep the batter is.
For a standard 8"x2" Fat Daddio pan (no heating core) that is filled ⅔ of the way to the top will probably take between 15-20 minutes.
Here is my recipe for pressure cooker corn pudding.
Recipe Link: Corn Pudding/Casserole
Oven Baking
Oven baking can be done the exact same way as I do it in this recipe by using a cast iron skillet on the stove and then transferring it to the oven. The only difference I would make is increase the oven temperature 25-50°.
Or, you can place the batter in a buttered casserole dish and bake at 400℉/200℃ for 20-40 minutes. Again, the timing depends on the size of your casserole dish and how deep the cornbread batter is. The less depth, the quicker it will cook.
Since there are so many variables in the types and sizes of dishes, I can't really give you specifics. What I would do is find a recipe that uses the size pan you want to use and then use their temperatures and timings as a guide.
Air Frying
If you wanted to air fry (air crisp) your cornbread, I recommend starting at a low temperature of 250℉/125℃ so you don't overcook the top before the center cooks all the way.
If you want to use your air fryer to make cornbread, consider making these Hushpuppies instead! They are amazing, even better than cornbread, in my opinion!
Recipe Link: Air Fryer Hushpuppies
How to Make Cornbread in the Ninja Foodi
Gather your ingredients and measure everything out. This recipe takes no time to whisk up and having everything ready will make everything go much smoother.
Make sure to have your pan grease or whatever you use to prevent cakes from sticking handy because you will need to use it. I don't recommend using all butter because it might burn with the high heat.
This is the mixture I used:
½ cup butter OR Crisco
½ cup all purpose flour
¼ cup of avocado or vegetable oil
Mix together and use as a pan grease.
Once you are ready to whisk up the cornbread batter, turn the sear/sauté on high on the Ninja Foodi. Make sure the inner pot is in and I recommend using the ceramic coated non-stick pot for this recipe.
Mix the half and half and vinegar together and let sit to thicken.
While the pan is heating, combine the eggs and sugars and whisk until combined.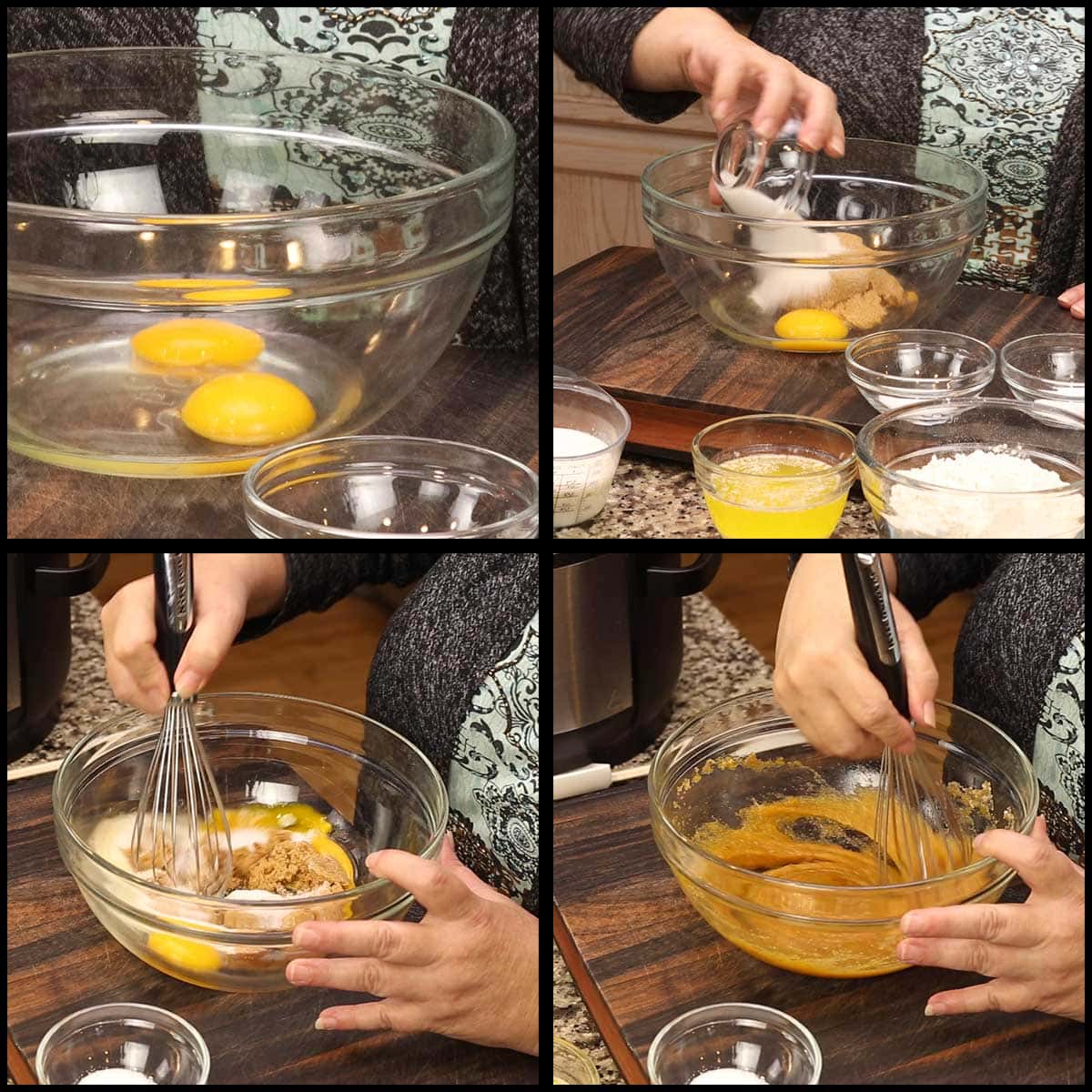 Next, I add the flour and cornmeal along with the melted butter and salt. Many times you will see the baking powder mixed in with the flour and you can absolutely do that. The only reason while I wait to add it until the very end is just in case I get distracted and can't make the cornbread right there and then.
Once baking powder gets wet, it begins to activate and recipes made with baking powder usually need to be baked right away to achieve the leavening that is desired. There is double acting baking powder that activates twice, once when mixed with the wet ingredients and then again when exposed to heat.
Next add the baking powder, the half and half with vinegar, and the corn (if using). Mix well.
Turn the heat down to medium. Brush the inner pot with the pan grease or whatever you are using and immediately pour the cornbread batter into the pot. Let cook on medium sear/sauté until bubbles start to form around the edges and the edges start to set. I like to compare this to a pancake cooking. It takes about 10 minutes.
When the edges are set, close the crisping lid and select bake/roast. Set the temperature to 300℉/150℃ and bake for 15-20 minutes or until the top has browned and the center is cooked all the way.
Turn the Ninja Foodi off and remove the pot.
Loosen the edges of the cornbread with a silicone spatula or a (affiliate link)cake tester like I used. Place the cooling rack on top of the inner pot and flip the cornbread onto the cooling rack.
Here is a short video showing how I do this.
Once the cornbread is flipped out of the pot, it is completely up to you if you want to serve it as is or add the honey butter.
To add the honey butter, you will want to poke holes with a butter knife or I used the back of my cake tester.
Melt the butter and mix it with the honey and then spoon or pour it over the cornbread and let it seep into the holes. I let it sit and cool for a few minutes and then flip it back over onto a plate for serving.
Cut into wedges and enjoy!
Honey Butter Cornbread Recipe
Easy technique for making cornbread in the Ninja Foodi
Print Recipe
Pin Recipe
Ingredients
½

cup

half & half

regular milk is fine

1

Tablespoon

white vinegar

2

large

eggs

½

cup

brown sugar

¼

cup

white sugar

1½

cups

all purpose flour

½

cup

yellow cornmeal

½

cup

melted butter

1

teaspoon

fine grind salt

2

teaspoons

baking powder

1½

cups

corn
Honey Butter
3

Tablespoons

melted butter

2

Tablespoons

honey
Instructions
Gather all of the ingredients and measure them out. Pour the vinegar into the half & half.

Turn the Ninja Foodi on high sear/sauté and let the pot heat up while you mix up the cornbread batter.

Whisk the eggs and sugars together in a large mixing bowl. Add in the flour and cornmeal and mix together. Add the melted butter, salt, and the milk mixture. Add the baking powder and mix well. Fold in the corn kernels.

Turn the Ninja Foodi down to medium heat and brush or spray the bottom and sides of the pot with cooking spray or pan grease (see post for pan grease recipe).

Pour the cornbread batter into the inner pot and let it cook for about 10 minutes or until you see bubbles forming and the edges are starting to set.

Close the crisping lid and select bake/roast on 300°F/150°C for about 20 minutes or until the top is lightly browned and the center is cooked all the way. Remove the pot from the Ninja Foodi base and flip out onto a cooling rack.

Mix the melted butter with the honey and poke holes in the cornbread. Pour or spoon the honey butter over the cornbread. Cool and Serve.
Nutrition
Calories:
268
kcal
Carbohydrates:
37
g
Protein:
4
g
Fat:
12
g
Saturated Fat:
7
g
Polyunsaturated Fat:
1
g
Monounsaturated Fat:
3
g
Trans Fat:
1
g
Cholesterol:
59
mg
Sodium:
302
mg
Potassium:
176
mg
Fiber:
2
g
Sugar:
17
g
Vitamin A:
419
IU
Vitamin C:
1
mg
Calcium:
48
mg
Iron:
1
mg
What to serve with Homemade Cornbread
Cornbread goes with so many different meals, but here are my top 4 suggestions for recipes made in the Ninja Foodi.
Here are a few idea for sides that go great with Cornbread.
ABOUT THE RECIPE AUTHOR, LOUISE LONG
Louise is a full-time recipe creator and food blogger @ The Salted Pepper. She has over 30 years of experience with cooking and recipe development. She owned a restaurant for several years and was a full-time RN until retiring to blog full-time.
She published her first cookbook in the Fall of 2018 and is very interested in writing several more.
Louise is also the creator of an online Ninja Foodi Pressure Cooking Course with over 100 instructional step-by-step videos. People absolutely rave about the course and all the value they have received from it.
Louise has several very active Facebook groups that help people with the basics of cooking and getting the most out of the Ninja Foodi.
Louise is also a YouTube creator and you can find most of her recipes in video format on The Salted Pepper YouTube channel.
She is very responsive to messages and eager to help in any way she can. Get more Information about Louise & contact information
I WOULD LOVE TO SEE WHAT YOU ARE COOKING UP IN YOUR KITCHEN! TAG ME @THESALTEDPEPPER ON YOUR FAVORITE SOCIAL MEDIA PLATFORM WHEN YOU MAKE A DISH!
BE SURE TO FOLLOW THE SALTED PEPPER RIGHT HERE ⇓⇓⇓⇓⇓