It's that time of year! Whether you are camping, hosting or attending an outdoor bbq party, or having family and friends over for a summertime celebration, food is always front and center!
I love using my Ninja Foodi appliances to whip up great summer recipes. I use the Ninja Foodi Pressure Cooker & Air Crisper for most of my main dishes and sides, the Cold & Hot Blender for ice cream, the Ninja Foodi Indoor Grill for appetizers, and of course the oven for some special desserts and sheet pan meals.
I can't begin to tell you how many parties I've thrown over the years, including several HUGE bbq parties where I had to feed over 100 people. It's no small task, that is for sure, and planning is the key to success.
Being able to prep and make the food ahead of time can really save a lot of headaches the day of the party. It's also a good idea to plan a combination of items that can be served room temperature and cold, with just a few hot dishes.
Using the Ninja Foodi for Food Prep
I don't think it is any surprise that the Ninja Foodi is my favorite small kitchen appliance. Almost my entire website is dedicated to Ninja Foodi recipes. What may surprise you is that I didn't really use any sort of appliances before getting the Ninja Foodi.
In fact, I was a very traditional cook and, looking back, I wasted a lot of time using just my stove and oven for everything. Now, I use the Ninja Foodi for quickly and efficiently preparing most of my food, and that includes prepping food for later use.
This can really come in handy when planning a gathering where you want most of the food prepped and cooked ahead of time. Let's face it, no one wants to spend their time in the kitchen on the day of the party!
There are several ways you can utilize the Ninja Foodi for Party Prep, here are some of my favorite ways. Keep in mind, the functions on your Ninja Foodi Pressure Cooker & Air Crisper may vary.
Sous Vide
Using the Sous Vide for food prep is perfect for small gatherings or even just for meal prepping for the week.
You can make this Sous Vide Sirloin Tip Roast several days in advance and it's perfect for slicing thin to make delicious roast beef sandwiches that can be served room temperature. Don't forget to make the Alabama BBQ Sauce to go with it!
Another great idea for utilizing the sous vide function is to pre-cook your chicken! Whether you want to quickly grill up some bbq chicken thighs or use chicken breasts for a chicken pasta salad, chicken salad, or something else, sous vide is a great option for fully cooking the chicken without drying it out, so it's ready to be added to your cold dishes or thrown on the grill for a quick sear and a slather of BBQ Sauce.
Sous Vide Chicken Breast is one of my absolute favorite ways to prep chicken. You can do so much with them! You can also sous vide, freeze, and then thaw in the fridge to add to your cold salads, like this amazing recipe for Pasta Salad!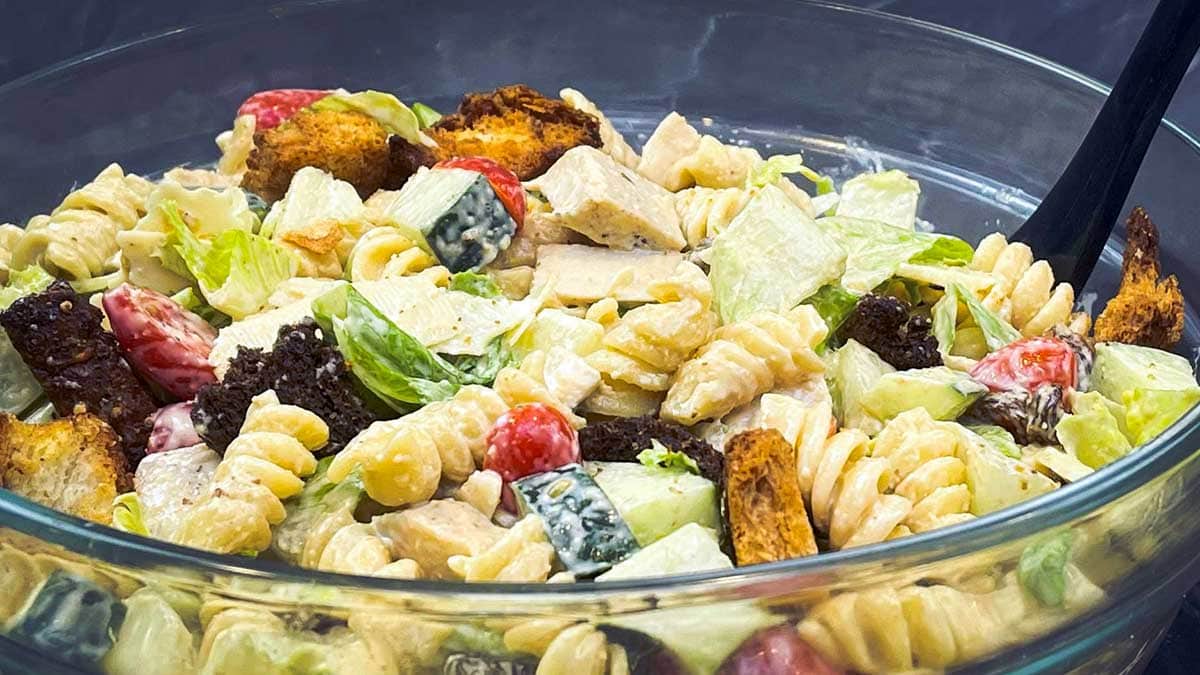 Pressure Cooking
Pressure Cooking is a fantastic way to cook food in advance for a summer party! You can par-cook ribs so they only take a few minutes on the grill, you can cook pounds and pounds of shredded chicken if you wanted to create a taco bar for people to make their own tacos, precook short ribs or country style pork ribs that can be sauced and finished on the grill.
Or, you can pressure cook a bunch of potatoes ahead of time and then warm them on the grill for a self-serve potato bar. Everyone can grab a hot potato and choose from different toppings, like crunchy bacon, sour cream, shredded cheese, chives or green onions and homemade chili that you can also make in your pressure cooker ahead of time!
Here are some Ninja Foodi recipes that are easily made ahead of time and perfect for entertaining.
I could go on and on about different functions to use for food prep in the Ninja Foodi, but let's get to my favorite Ninja Foodi Summer Recipes!
Main Dishes in the Ninja Foodi
I've talked a lot about party foods or prepping for parties using the Ninja Foodi, but the Ninja Foodi also makes it very easy to quickly make summertime meals for your family.
Ninja Foodi Summer Side Dishes
I have a weakness for side dishes! I love them so much that I can make an entire meal out of side dishes and often I do just that! Here are some of my favorites that are perfect for summertime and entertaining.
Ninja Foodi Summertime Desserts
The key to a good summer dessert is that it is easily made ahead of time and served cold or room temperature. Here are my most popular desserts that fit that criteria.
Ninja Foodi Summer Drinks
Most of these recipes were made in the Ninja Foodi Cold & Hot Blender, but any blender should work just fine. Enjoy!
Ninja Foodi or Ninja Creami Frozen Treats
When the Ninja Foodi Cold & Hot Blender came out several years ago, I fell in LOVE with it and I'm still a huge fan, but it's getting harder and harder to find and I think they might be phasing it out. Unfortunately, that's how these things go, but no worries because these recipes can be made in various ways if you don't have the Cold & Hot Blender. Most can be made in any blender and some are perfect for the Ninja Creami!
Condiments & Sauces
Sometimes the star of the show is the sauce or condiment served alongside your favorite summer foods. Many of these recipes were made using a Ninja Foodi appliance, but some don't require any appliance and can be whipped up in minutes!
ABOUT THE RECIPE AUTHOR, LOUISE LONG
Louise is a full-time recipe creator and food blogger @ The Salted Pepper. She has over 30 years of experience with cooking and recipe development. She owned a restaurant for several years and was a full-time RN until retiring to blog full-time.
She published her first cookbook in the Fall of 2018 and is very interested in writing several more.
Louise is also the creator of an online Ninja Foodi Pressure Cooking Course with over 100 instructional step-by-step videos. People absolutely rave about the course and all the value they have received from it.
Louise has several very active Facebook groups that help people with the basics of cooking and getting the most out of the Ninja Foodi.
Louise is also a YouTube creator and you can find most of her recipes in video format on The Salted Pepper YouTube channel.
She is very responsive to messages and eager to help in any way she can. Get more Information about Louise & contact information
I WOULD LOVE TO SEE WHAT YOU ARE COOKING UP IN YOUR KITCHEN! TAG ME @THESALTEDPEPPER ON YOUR FAVORITE SOCIAL MEDIA PLATFORM WHEN YOU MAKE A DISH!
BE SURE TO FOLLOW THE SALTED PEPPER RIGHT HERE ⇓⇓⇓⇓⇓